Nokia Lumia 920 vs Samsung ATIV S vs Nokia Lumia 820 vs Lumia 900: spec comparison
63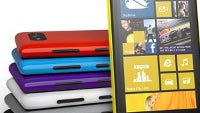 Last time, when Nokia launched its first Lumia smartphones, it claimed to be making the best Windows Phone devices. That was a jab to the competition but also partly true, as most phone makers are focusing first and foremost on Android. But Nokia's exclusive focus on Windows Phone doesn't necessarily grant it success and we saw that Samsung was the first to announce a Windows Phone 8 smartphone with the ATIV S unveiling last week.
And that was one impressive phone with a big screen, a processor that doesn't differ from what Nokia offers and with a classical design that's bound to withstand the test of time.
Nokia wasn't too surprised and it accepted the challenge. Today, it brought two new devices - the flagship Lumia 920 with PureView camera technology and the colorful and vivid mid-range Lumia 820. So we asked ourselves: who is the big winner in the Windows Phone 8 marketplace after all and how do the new devices compare to old ones? Here is a comparison chart exploring all the technical details, check it out and let us know who wins the spec war in your opinion.