Samsung ATIV S Review
92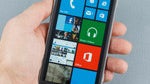 Introduction:
Samsung's ATIV S
is a strange kind of Windows Phone device. Not because it does anything wrong, but because it really stands out from the first batch of Windows Phone 8 devices. While Nokia and HTC are trying to come up with most lively and cheerful colors, Samsung has decided to go with the strict, business kind of look with the ATIV S, resembling some of the company's old Windows Mobile devices. But can "strict" and "business" go hand-in-hand with "Windows Phone 8" – a platform which Microsoft is desperately trying to market to consumers?
The ATIV S differs from the rest in the WP8 universe with one more thing – in a typical Samsung fashion, it offers a very large display, measuring 4.8 inches. Although there are other options with pretty sizable screens, none is really that big. But the typical Windows Phone customer may turn to be different from the Android one. The ATIV S is a WP8 smartphone that can tell us if Samsung will be able to repeat the tremendous success it has seen on the market for Android devices. Let us examine!
Design:
Omnia reborn? Well, yes and no. The ATIV S reminds us of a cross between an
Omnia
and a
Galaxy S III
. While the back side has that metallic and heavy look (it's still plastic), the front is a glossy greyish plastic that doesn't necessarily match the style of the back. Still, the combination isn't that bad, and the back is downright pretty.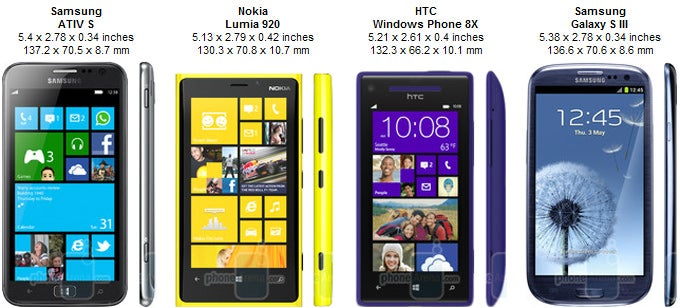 You can compare the Samsung ATIV S with many other phones using our Size Visualization Tool.
This is one big phone. It's as big as a Galaxy S III, even a tad higher, which makes it somewhat uncomfortable to hold and operate, especially if you want to use just one hand for that. The
Home key
below the screen is very well made, and the same can easily be said about the other physical keys on the device. The camera key is a bit more protruding that we'd like, though, and it's second step doesn't have that reassuring click feeling.
Of course, the handset comes with a standard microUSB port and a 3.5mm headset jack. The ATIV S uses the now-standard MicroSIM slot and also features a microSD card slot for easy storage expansion.
All in all, the ATIV S has an interesting design with a hint of business style to it, which isn't something that we see too often nowadays.
Display:
As you can expect from a Samsung handset, there's a Super AMOLED display somewhere in the equation. The
resolution
is pretty high –
720 x 1280 pixels
, which, when combined with the
4.8" size
makes for a smooth 306 pixels per inch. The colors are a bit on the colder side, but just a bit. Due to the not so strong brightness levels, the screen of the ATIV S isn't very easy to see outdoors, but if you have it on maximum (or simply automatic), you shouldn't have that much of a problem to read a short message or a status update.
One of the positive sides of the AMOLED screen technology is that it has very good viewing angles, and the same is absolutely evident on the ATIV S. Basically, everything remains perfectly visible as you are widening the angle, though there's a noticeable color degradation.
Samsung ATIV S 360-degrees View:
Recommended Stories