Nokia Lumia 800 promoted in Australia as the "Amazing Everyday"
4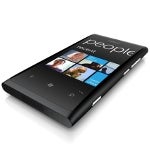 Remember those
giant working Google Nexus S displays that were spotted at Best Buy
in 2010? Nokia has done nearly the same thing by putting working,
interactive giant models of the Nokia Lumia 800
at selected bus stops in Australia. The device is being promoted as the "Amazing Everyday," and the promotion is designed to take advantage of the launch of the device in the country this week. Currently the giant Lumia 800 models are on display in Sydney.
There is a significant appetite from operators and retailers looking to offer consumers a real smartphone alternative
," said Carr. The executive also said that he hoped that the Lumia 800 would be the
turning point for the Finnish based manufacturer
in Australia where once upon a time, Nokia was the top smartphone brand in the country. The launch of the Nokia Lumia 800, said Carr, signals Nokia's attempt to recapture from the Apple iPhone and Android models "
leadership in smartphone design and usability
."
source:
Nokia
via
WMPoweruser