Nokia Lumia 710 priced at zero, courtesy of Walmart
5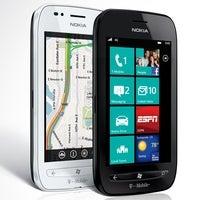 Although $50 is a pretty decent price for a brand new
Nokia Lumia 710
, there is a way of getting the handset for even less.
Walmart is willing to give you the device for free
, either in black or white, as long as you do not mind that 2-year contract that you have to sign with T-Mobile. Alternatively, if you want to avoid the whole commitment part, the smartphone can be purchased for $380. If you want to renew your contract, however, the handset's price stands at $50, which is just as much as it costs at T-Mobile.
The
Nokia Lumia 710 was released on T-Mobile
just days ago, and this actually isn't the first time when we see it
being treated to a price slash
by a third-party retailer. What you get is a Windows Phone device with a 3.7-inch display and a 1.4GHz single-core processor. Its back is graced by a 5-megapixel autofocus camera, and 8 gigs of on-board storage are at your disposal. It has exchangeable back covers too!
Is anyone thinking of taking advantage of this offer? If so, feel free to share it with us in the comments below. And if you are on the hunt for a Windows Phone device that is more on the high-end, you might want to check out what the
Nokia Lumia 900
will have to offer
once it launches on AT&T
.