Nokia Lumia 710 is official: affordable Windows Phone
8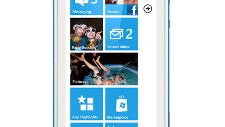 The
Nokia Lumia 710
is the second Nokia Windows Phone and what makes it different is its
affordability
paired with nearly the same guts as the Nokia Lumia 800. The Lumia 710 also comes with a 3.7" ClearBlack display with a resolution of 480x800 pixels, exchangeable back covers for distinct looks, but the body itself will come in black and white.
So what's in there for you with the new Lumia 710? The phone comes with a Snapdragon MSM8255 chip with the processor clocked at 1.4GHz, but you also have hardware acceleration and the very same GPU as the one in the Lumia 800. The handset isn't too thick, but it's not too thin either at 0.49" (12.5mm), while its weight stands at 4.43 ounces (125.5 grams).
In the photographic department, you're treated with a 5-megapixel camera capable of capturing 720p videos at 30fps.
Nokia
Lumia 710 price
is set at the relatively affordable $375 (270 euro).
The
Lumia 710 release date
is set to about the end of the year in select markets: Hong Kong, India, Russia, Singapore and Taiwan first, but it will also land on different market in early 2012. That's when we expect to see Nokia's lineup appear stateside as well. So how do you like the new Nokia family?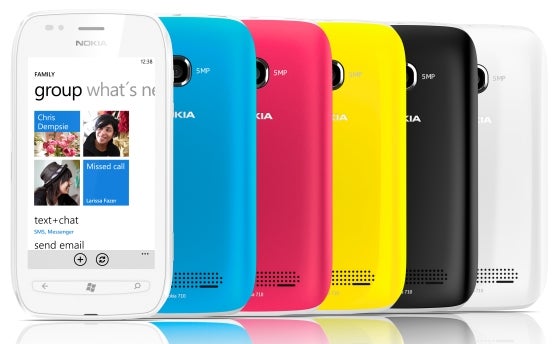 Nokia Lumia 710
The purposely built, no-nonsense Nokia Lumia 710 can be personalized with exchangeable back covers and thousands of apps to bring the Lumia experience to more people around the world. The Nokia Lumia 710 is designed for instant social & image sharing, and the best browsing experience with IE9. It is available in black and white with black, white, cyan, fuchsia and yellow back covers. With the same 1.4 GHz processor, hardware acceleration and graphics processor as the Nokia Lumia 800, the Nokia Lumia 710 delivers high performance at an affordable price. The estimated retail price for the Nokia Lumia 710 will be approximately 270 EUR, excluding taxes and subsidies.
Both smartphones include signature Nokia experiences optimized for Windows Phone, including Nokia Drive, which delivers a full-fledged personal navigation device (PND) with free, turn-by-turn navigation and dedicated in-car-user-interface; and Nokia Music introducing MixRadio, a free, global, mobile music-streaming application that delivers hundreds of channels of locally-relevant music. In an update delivered later this year, Nokia Lumia users will also gain the ability to create personalized channels from a global catalogue of millions of tracks. Also integrated in Nokia Music is Gigfinder, providing the ability to search for live local music for a complete end-to-end music experience, as well as the ability to share discoveries on social networks and buy concert tickets also coming in the Nokia Music software update delivered later this year.
Completing the ultimate mobile audio offering, Nokia also introduced the on-ear Nokia Purity HD Stereo Headset by Monster and thein-ear Nokia Purity Stereo Headset by Monster, co-designed and co-developed by Monster, a recognized leader in high performance audio. Both products provide a fresh listening experience and are the first output of the exclusive long-term partnership between Nokia and Monster, intended to introduce a range of premium audio accessories to reflect the outstanding quality and bold style of the Lumia range.
The new Nokia Lumia 800 is now available in select countries for pre-order on www.nokia.com and is scheduled to roll-out across France, Germany, Italy, the Netherlands, Spain and the UK in November, with 31 leading operators and retailers providing unprecedented marketing support in those first six countries. It is scheduled to be available in Hong Kong, India, Russia, Singapore and Taiwan before the end of the year, and in further markets in early 2012.
The Nokia Lumia 710 is scheduled to be available first in Hong Kong, India, Russia, Singapore and Taiwan toward the end of the year alongside the Nokia Lumia 800, before becoming available in further markets in early 2012.
Nokia also announced its plans to introduce a portfolio of products into the US in early 2012 and into mainland China in the first half of 2012. In addition to the existing products, which include coverage for WCDMA and HSPA, Nokia also plans LTE and CDMA products to address specific local market requirements.