Nokia Lumia 1020 grip case photographed from all sides, comes with a tripod mount
21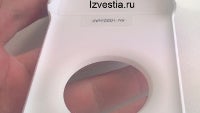 The Nokia Lumia 1020, aka Nokia EOS, aka Nokia's next camera superphone will likely get officially unveiled tomorrow, but you can take a look at one awesome accessory for it right now. Russian newspaper Izvestia got a hold of a grip case that would make it easier to snap images single-handedly on the 41-megapixel camera of the Lumia 1020.
Yesterday, we saw the back of the case, but not really the whole case. Now, the grip case for the Nokia Lumia 1020 has been photographed from all sides, and it turns the phone into a true photographer's tool.
First, let's remind you that the case comes with a 1020mAh battery that augments the built-in juicer of the Lumia 1020. That's part of the reason why that case is so big and bulky.
It also come in a convenient shape for a single handed grip and you'd see how it's larger on the right side for just that reason. On the bottom, there is a tripod mount so you can use the Lumia 1020 for more serious shooting.
We are extremely excited about the Nokia Lumia 1020. It's 41-megapixel camera allegedly with lossless zoom support, optical image stabilization and Xenon plus LED flash, all in a compact body promises to truly take phone photography to the next level. Stay tuned - Nokia is expected to announce the handset tomorrow in New York and we'd be covering it live.
source:
Izvestia