No vacation days for Apple Store employees during the second week of October
75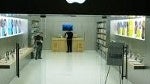 If you're an Apple employee in one of the company's retail outlets, better
not plan on taking that vacation you need
from October 9th through the 12th, and on October 14th and 15th. In some locations, those dates have been blacked out by Apple as vacation days, hinting that the Cupertino based firm will need all hands on deck to staff stores crammed with customers.
According to
AppleInsider
, certain sections of the AppleCare division have told employees to prepare
for a heavy influx of calls relating to the new iOS 5
during that time period. From October 10th through the 12th, Twitter is expecting to have a developer event related to iOS 5 which would suggest that the software would be made public before then. In the past, Apple has
introduced a new OS prior to an iPhone launch
. For example, last year Apple brought out iOS 4 on June 21st and 3 days later launched the Apple iPhone 4. A year before that, iPhone software 3.0 was brought public on June 17th with the Apple iPhone 3GS made available on June 21st.
This year might not be any different. If the October 9-12th blackout dates have to do with iOS 5, surely the October 14th-15th dates must deal with the
launch of the 5th-generation Apple iPhone
, whatever it is named. With speculation that the next iPhone will be introduced during
Apple's October 4th event
, the timing would seem to be in line to expect its launch 10-11 days later.
source:
AppleInsider