Nintendo grossed $53 million from Super Mario Run since its launch last month
1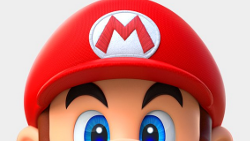 Since its launch in December
, mobile video game
Super Mario Run
has amassed $53 million in revenue for Nintendo, according to the company. And that amount was achieved with the game available only for iOS devices. The Android version of the game, which is expected to launch in March, could bring tens of millions of additional dollars into Nintendo's coffers. The game is free to download and a couple of levels of game play are also on the house. After you play those free levels, you will have to shell out $9.99 to enjoy the rest of the game. The Android version of Super Mario Run is expected to be offered with the same pricing.
You might think that Nintendo would be extremely happy to be generating so much money, but the company's CEO Tatsumi Kimishima is far from satisfied. Approximately 5% of the 78 million downloads of the game resulted in a $9.99 purchase. The executive was expecting a paying rate of at least 10%. For its next game, a smartphone version of
Fire Emblem
, Nintendo plans on borrowing the payment structure used with Pokemon GO. That title is partially owned by Nintendo, and while the game is free to download and play, there are in-app purchases offered that increase the chances of attracting and catching certain Pokemon.
The $53 million in revenue generated by Super Mario Run in December, is a drop in the bucket compared to the $1.5 billion in revenue that Nintendo produced for the October through December period. That is not a fair comparison since we are talking about one month's revenue compared to the three months that made up the fourth quarter. Still, even if we tripled the December take for Super Mario Run to $159 million, that figure palls compared to the top line produced by the game maker for the fourth quarter.
Since Super Mario Run did not make a dent in the company's results one way or another, Nintendo is going to have to consider building a huge library of smartphone games if the project is going to be worth committing to.
Download Super Mario Run (
iOS
)
source:
WSJ