Nike will continue to sell and support the FuelBand; new METALUXE colors coming
5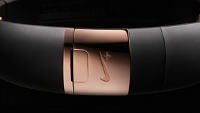 On Friday, we passed along the news that
Nike was 86'ing the Nike FuelBand
. Besides probably making Apple CEO Tim Cook extremely unhappy (he is said to wear his religiously), the news seemed to indicate that Nike would be leaving the wearables business. Talk that Nike had passed out pink slips to 80% of the employees working on the FuelBand had fueled the talk (see what we did there?) that Nike was closing the division.
As it turned out, Nike admitted on Saturday that it did layoff some workers in the FuelBand division, but only a small number of employees. And yes, that means that Nike is apparently not going to stop selling the Nike+ FuelBand SE. In fact, the company says that it is planning on offering the device in new METALUXE colors. Nothing was said by Nike about future versions of the device though, which could mean that Nike is indeed wrapping things up. One person with inside knowledge of Nike's plans, said that the company could be looking to sell out its current inventory while it decides what to do in the future.
"The Nike+ FuelBand SE remains an important part of our business. We will continue to improve the Nike+ FuelBand App, launch new METALUXE colors, and we will sell and support the Nike+ FuelBand SE for the foreseeable future."-Nike
As we previously mentioned in our earlier story, Apple CEO Tim Cook sits on the Nike board. That could help the sporting goods giant succeed with a new focus on software that it could sell to Apple, and other tech firms working on wearable devices. While the FuelBand has brought some positive attention Nike's way, the company never offered an Android app and the FuelBand is considered by some to be too simple a device when compared to the new smartwatches and fitness trackers that are now being released.
source:
Recode
via
TechCrunch