Nielsen's Q4 numbers are out, Apple seen with huge boost thanks to the iPhone 4S launch
36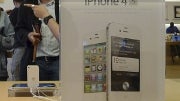 We see it every year with the launch of a new iPhone model, and last quarter was no exception. Apple has gained north of 20% market share for the October-December period, with its logo on 44.5% of smartphones sold in the US in Q4.
This is almost the percentage of Android handsets sold the last quarter, which stands at 46.9%, a dive from over 60% in the beginning of October.
Roughly the same numbers were listed in the
NPD analysis last week
, so the boosted iOS market share claims now come from two reliable sources. What is more, even though Symbian still reigns installed on the most smartphones worldwide, the
global reports show significant boost in iOS market share for Q4
as well.
The initial excitement usually wears off after a quarter, so we will probably see Android handsets ramping up again until the summer, when the next iPhone lands, but for now the two leading contestants are very close, and together hold
more than 90% of the US market
.
The other mobile operating systems suffered from the
iPhone 4S
launch and the Android dominance, with RIM diving from 7.7% to 4.5% of the recent acquirers market share at the end of the quarter.
via
Engadget
More US Consumers Choosing Smartphones as Apple Closes the Gap on Android


According to the latest research from Nielsen, the high-profile launch of Apple's iPhone 4S in the Fall had an enormous impact in the proportion of smartphone owners who chose an Apple iPhone. Among recent acquirers, meaning those who said they got a new device within the past three months, 44.5 percent of those surveyed in December said they chose an iPhone, compared to just 25.1 percent in October. Furthermore, 57 percent of new iPhone owners surveyed in December said they got a 4S.


Android continues to hold the lead among all smartphone users, with 46.3 percent of all smartphone owners surveyed in Q42011 reporting they have an Android-based mobile phone.

As of Q42011, 46 percent of US mobile consumers had smartphones, and that figure is growing quickly. In fact, 60 percent of those who said they got a new device within the last three months chose a smartphone over a feature phone.[\PRESSRELEASE]


FCC OKs Cingular\'s purchase of AT&T Wireless