NPD report shows dramatic surge of iOS market share in the US after the launch of Apple's iPhone 4S
15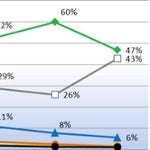 Hot on the heels of the
worldwide report we told you about last week
, showing an impressive increase in the number of iOS devices after the
iPhone 4S
launch, comes this closer-to-home NPD report that shows the same thing for October/November.
The research company stats show that immediately after Apple's latest handset got released, pent-up demand started pushing the iOS market share dramatically up, and now stands at just 4% shy of Android's reigning 47%.
Together, the two most prolific mobile operating systems in the US, have cornered 90% of the country's smartphone market, without even existing as soon as 2007.
The iPhone 4S, however, is likely to stay as the most popular single model smartphone here for a while, as currently all top three models are Apple handsets.