New video provides an animated look at the inside of the BlackBerry Priv
38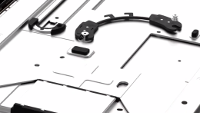 The
BlackBerry Priv
might not have been able to
single-handedly kick start the company's hardware sales in the fiscal third quarter
. But things should change for the better early next year. BlackBerry's first Android powered slider will soon be available from the largest mobile carrier in the U.S., Verizon, and that can only mean more Priv units will get rung up. The Verizon version of the phone
has already cleared the FCC
.
The last time a BlackBerry phone was so eagerly anticipated by Verizon subscribers, it was back in 2008 when BlackBerry's first touchscreen phone was launched. The
BlackBerry Storm 9530
came out of the box half-baked with a number of hardware and software flaws. This was supposed to be BlackBerry's answer to the Apple iPhone, and it failed miserably (although the
BlackBerry Storm 2 9550
was a major improvement in every way).
A new promotional video was released today for the Priv, and by using animation to display how the device is put together, viewers are supposed to get the feeling that the components inside the slider are well protected from drops. That might be the case, but keep in mind that there is no protection against spills and rain. Don't even think about submerging the slider. Perhaps a sequel version of the phone will include IP certification.
Ever wonder what the inside of the BlackBerry Priv looks like? You can get a quick look at the phone's innards and how it all fits together, by clicking on the video below.
source:
BlackBerry