BlackBerry PRIV Review
99+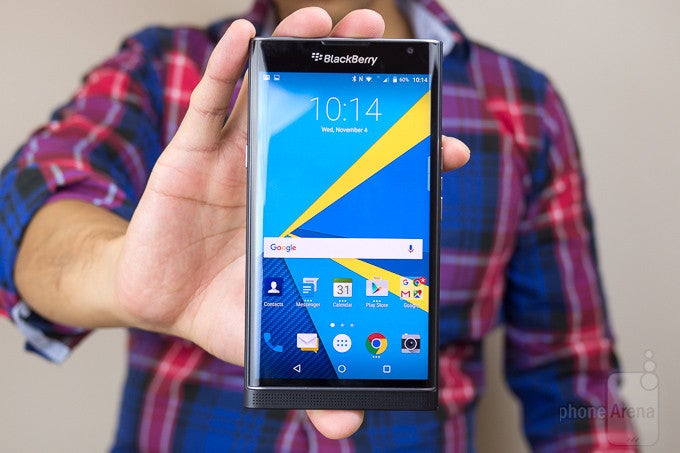 Introduction
There are a handful of companies that have been undoubtedly on the decline for the last several years. The business is cutthroat, whereby things can rapidly change in a heartbeat, so if there's no substantial progress earned, it's feasible that the end isn't too far away. We can count a few notable companies in this particular situation, like HTC, who has struggled to make itself noticed. Or in the case of Motorola, after years of attempting to make a turn around by itself, eventually got gobbled up by Google, then subsequently Lenovo.
There's also Microsoft, a company that has taken pride in its line of Windows devices, but has yet to make any sort of impact in the mobile space. You know who else in this situation? BlackBerry. Countless times already, they've tried to reinvent themselves for the modern times, but they, too, failed in generating any interest from consumers. Instead, it's only the diehard BlackBerry faithfuls that have been able to keep them afloat for all this time.
Well, here we are at the tail end of 2015, and the future is still uncertain for BlackBerry. The company is still acclaimed for its unrivaled commitment to security, but rather than just build upon that with its existing platform, BlackBerry is now ready to try its luck in the Android business.
Say hello to the
PRIV
by BlackBerry – a charming portrait QWERTY slider that's distinguishably BlackBerry, but powered by Android. Can this sacrilegious venture prove fruitful for the company, possibly becoming the catalyst in reestablishing their direction towards greener pastures?
The package contains:
BlackBerry PRIV
microUSB cable
Wall charger
Headphones
Quick start guide
Safety & warranty information
SIM removal tool
Design
In the world of portrait sliders, this is as good as it gets.
Phones with physical keyboards, they've become quite uncommon, as touch input has very well become the prime choice for today's modern smartphones. At first glance, most people will easily mistake the PRIV as an all-touch device too, but this wouldn't a true BlackBerry without its signature keyboard implementation.
In terms of design, the PRIV borrows heavily from the
Passport
, which isn't a bad thing, seeing it exudes an industrial styling that's attractive. Naturally, the PRIV is longer due to the larger screen, but what's really impressive is that it achieves a profile of 9.4mm. For a phone that packs a keyboard, that's not too shabby at all – while also sporting dimensions that are a smidgen more compact than the
iPhone 6s Plus
.
Attention to detail is evident with the PRIV's design, made obvious by the materials they opted to employ. In particular, its aircraft-grade aluminum frame accents nicely against the black rubbery texture of its casing – where it sports this almost carbon-fiber-esque pattern. There's no slippery feel to the phone thanks to this finish, but its construction isn't as solid as that of the Passport considering there are two components that primarily make up the phone; the sliding front panel that accommodates the screen and the other for the keyboard.
The sliding mechanism is smooth and locks into position, while giving us those satisfying clicking sounds that are typical with portrait sliders. In the Android space, the PRIV's design is undoubtedly original.
BlackBerry's signature styling is plainly evident just looking around the PRIV. For one, it features the same volume control/mute button configuration around its right
edge
. The power button, however, is situated all by itself along the left edge. Yes, it's one of the few phones that opts to place it there, but it's merely a matter of getting acquainted before it becomes natural.
Interestingly, the speaker takes position directly below the display, in the small nook that's there towards the bottom. While the micro dots extend throughout the entire width, because the speaker is mainly driving sound through the left-most area of the grill.
Rounding things out, there's a multi-colored LED notification light above the display that can be adjusted for specific notifications – yet another rarity we don't see in many phones.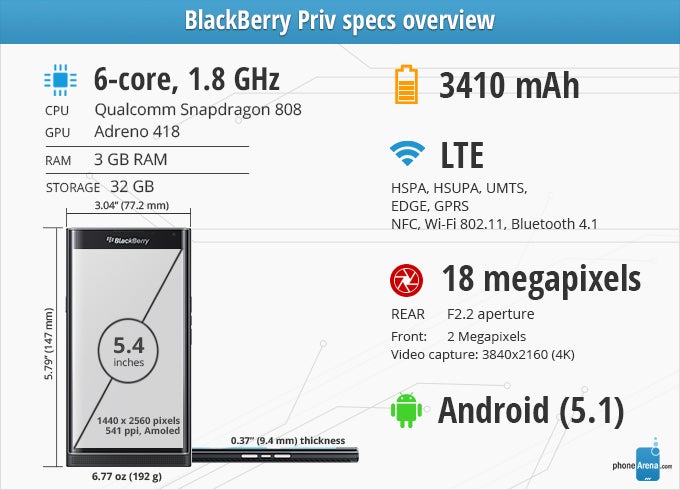 Keyboard
Above all else, the keyboard merely offers convenience – a pleasant alternative to touch input.
What makes it even better is the fact that additional buttons, such as shift, symbol, alt, and others, are here in the layout. Each press is accompanied with a satisfying level of tactility to ensure something has been pressed, so for those who really enjoy a physical response, it's no doubt present here. Other features taken from the Passport include the keyboard being touch sensitive, enabling us to use it to precisely place the cursor in a passage of text, highlighting stuff, and also scrolling – all of them help to complement the experience.
As much as we'd like to say that we favor this method, we still find our pace considerably slower than touch-input via its on-screen keyboard. Nevertheless, the main selling point here is that we have the best of both worlds at our disposal.
Display
Very good AMOLED screen, with options to tweak color balance and saturation.
The PRIV comes at us with a pretty formidable screen that clearly dictates it as being an elite-oriented smartphone. Fashioned with a 5.43-inch 1440 x 2560 Plastic AMOLED screen shielded by Gorilla Glass 4, there's certainly no shortage of crisp details with this one and its 541 ppi
pixel
density. What's most peculiar, though, is the realization that they went with AMOLED technology, marking the first time we're coming across a BlackBerry-made smartphone using the technology.
Beyond the specs, it's the subtle sloped edges that make it unique, following in nearly the same manner as the Samsung Galaxy S6 edge/
edge+
. The curve is a very gentle one – nowhere as dramatic as the Galaxy S6 edge/edge+ curves.
So what about the screen's quality, is it any good? Generally speaking, yes, it manages to produce some very favorable results. Color balance is quite natural on the whole. There's a bit of oversaturation, but it's not extreme. Interestingly, there are adjustments in the settingsfor display color balance and saturation, so it can be tweaked to the user's liking.
In the past, BlackBerry's line of smartphones have always been known to be accompanied with the brightest of screens. Impressively enough, the BlackBerry Q5, Classic, and Passport take up the top 3 spots in our testing. Going with an AMOLED panel here for the PRIV, however, it only reaches the decent, but not great, 404 nits – far short of the blinding glows of those previous efforts. And with that, it doesn't come off as particularly easy to view outdoors.
Overall, the display here is no doubt the most ambitious to date with BlackBerry. While some of us will try to overlook the potential novelty of the dual-curved edges, the display is a good complement to the company's footing into Android land.
Display measurements and quality