Red's out, taupe's in: the new iPhone 2018 colors may match Apple's cases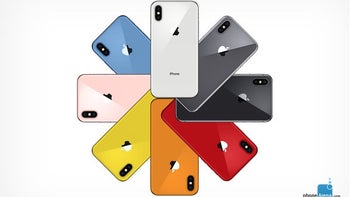 The
iPhone X
is currently only available in the classic white and black versions (officially dubbed Silver and Space Gray), but rumor has it Apple may introduce new colors for it, or its successor this year, to spice the variety up. It's been hard enough for Apple to produce a sufficient amount of units at the beginning, thanks to the complicated
TrueDepth
camera, so it didn't want to add yet another hue complexity to the production process to manage.
This year, however, the production kinks have already been ironed out, and Apple is said to add new colors for its notch-y iPhone 2018 which is expected to be the cheapest one of the trio Apple is about to unveil. Now, what would these colors be? Well, the latest rumor rules out red, and says that the hues will somewhat mimic the leather or silicone cases that Apple currently offers for the X.
Citing supply chain sources, the Japanese from Macotakara say that the iPhone 2018 will land in white, black, flash yellow, bright orange, electric blue, taupe, or gold versions, whereas famed Apple analyst Ming-Chi Kuo who broke the colorful iPhone's story listed red as a possibility, instead of taupe, while another analyst added pink to the mix back in the spring, too.
Apple may be toying around with many colors, of course, and it all might be a matter of how these new shades are perceived, or it may be saving the red for a charity
Product (RED) edition
later in the iPhone 2018 game. Two months to go before we know.