New accessory for Apple iPad allows number 1 tablet to help your kid go number 2
6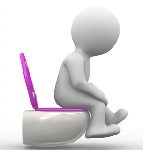 iPotty for iPad
. The title says it all. It is a potty for toilet training that includes a stand for the
Apple iPad 2
and the
third
and
fourth generation Apple iPad
. The inner part of the potty is removable and is easy to clean and there is a splashguard (not like the one on the
Motorola DROID 4
and
Motorola DROID RAZR HD
models). A clip-on cover converts the potty into an activity chair that can be used for playtime.
The tablet is placed inside an adjustable stand with a clear protective cover that keeps the
you know what
from hitting the Pad. The stand allows the user to shift between portrait and landscape orientation, and the viewing angle can also be adjusted. And if you're not happy with poor little Stevie's aim, why you can simply remove the Apple iPad altogether from the potty.
Priced at $39.99, the iPotty for iPad will be out sometime later this month and is designed for children from 6 months to 3 years of age.
source:
PocketLint