New "Sandstone White" OnePlus 5T model surfaces
4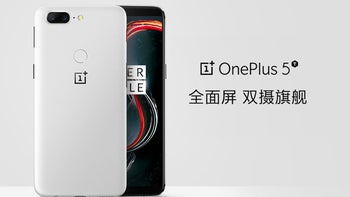 A new OnePlus 5T model is coming: a "sandstone white" version of the OnePlus 5T has leaked out on Chinese retailer JD.com and rumors say the company will officially unveil the phone on January 5th. Initially, the new model will likely be headed to China only and we do not know if and when OnePlus plans to bring this to Western markets.
The new OnePlus 5T in sandstone white pays tribute to the original OnePlus "sandstone" designs and features the same textured finish on its back that makes it different from all other phones out there.
Curiously, OnePlus seems to be drawing inspiration from the Pixel 2 XL "panda" look, as this newest 5T model has a similar white back with black front approach and one button in a contrasty red color.
A "panda" OnePlus 5T that goes back to OnePlus' sandstone roots
The new sandstone white OnePlus 5T will only be offered in the high-end configuration: 8GB of RAM and 128GB of storage. The price will be the same as the similar model that is currently offered in black, $560 for an unlocked phone.
Under the hood, the device is the same: it's powered by the awesome Snapdragon 835 system chip, features an edge-to-edge 6" AMOLED screen, supports the fast Dash Charge and runs on the extremely zippy OxygenOS interface on top of Android 7.
The OnePlus 5T is said to go on sale in China on January 9th.