OnePlus 5T Review
61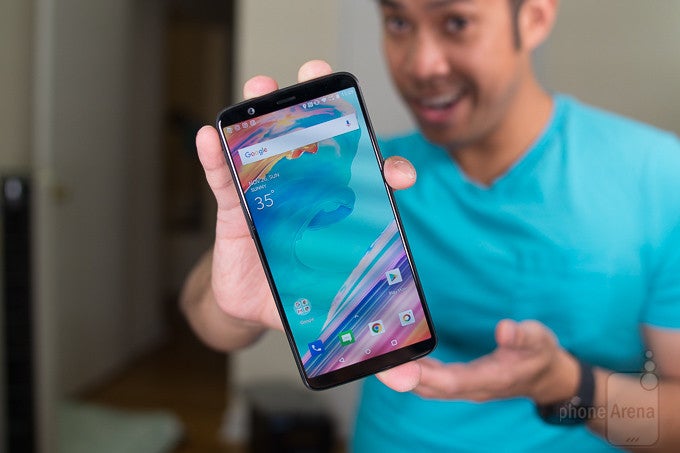 Update

: Read our OnePlus 6 review!

2017 can be argued as the year of the trends: from stretched-out 18:9 displays to dual-camera implementations to facial recognition security, all adopted by many of the flagships released this year. And you know what else they adopted? This crazy idea of ultra-premium pricing around the neighborhood of $1,000.
However, there's a new phone that adopts all of these newfound qualities, and then some, but without the $1,000 price tag. Enter the
OnePlus 5T
: the latest high-end smartphone from the Chinese company. At first glance, it could be perceived as a minuscule update, coming only a few short months after the company's previous flagship – the
OnePlus 5
. But don't be fooled because if you look at the larger picture, it might astound you to know how the OnePlus 5T stacks up against the giants in the flagship space.
In the box:
Dash Power Adapter
Dash Type-C Cable
Silicone protective case
OnePlus decals
Safety Information
Users Guide
Design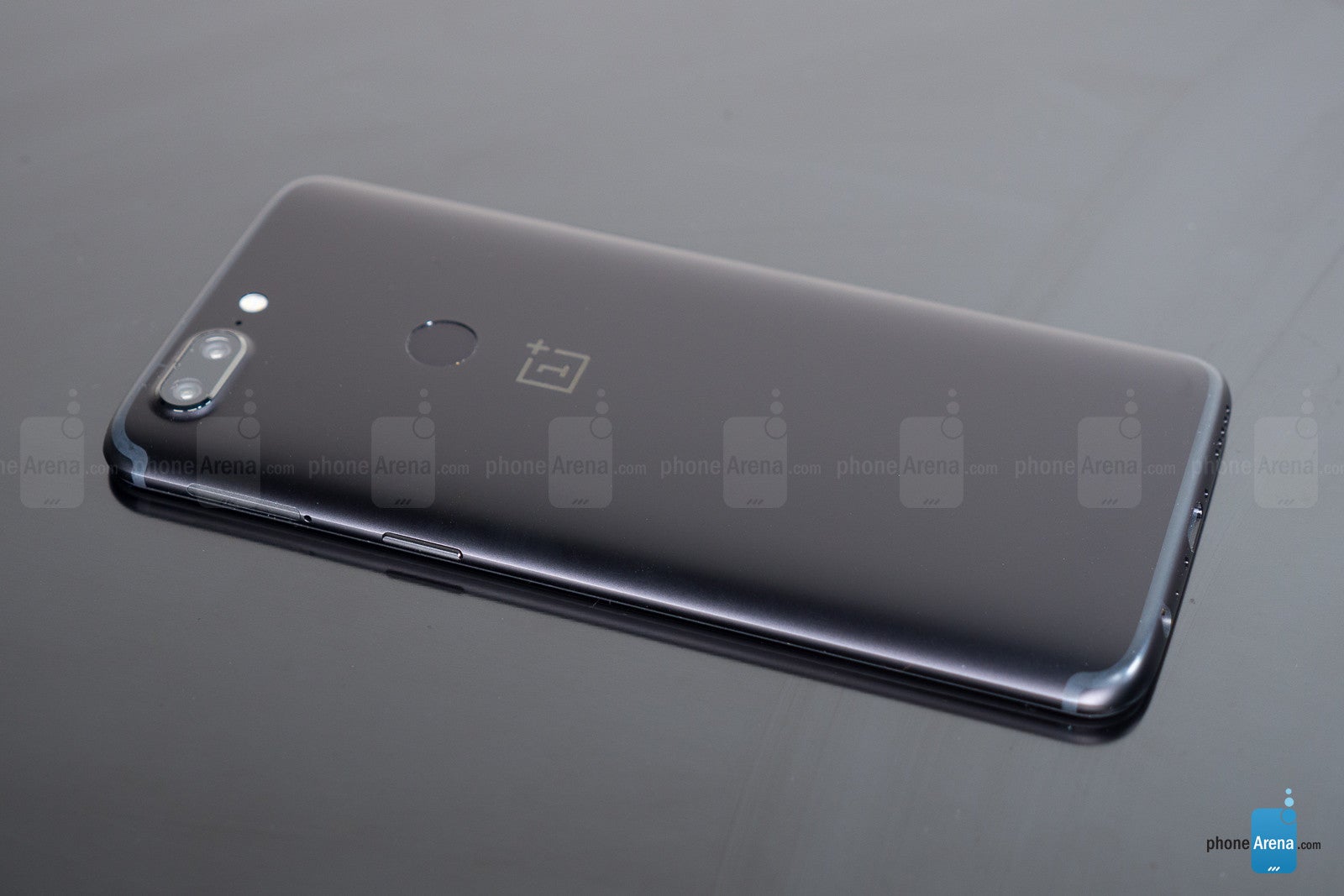 Being released so soon after the OnePlus 5 before it, it's no surprise that the OnePlus 5T doesn't deviate a whole lot from the design language that we're familiar with already. In fact, you could say that it's an exact facsimile, since it sports the same smooth metal construction and sloping edges. However, in order for it to fit a larger screen within only a marginally bigger footprint, its fingerprint sensor has been repositioned to the back – just a smidgen beneath the camera.
The construction of the phone feels solid, suggesting that it doesn't have the fragileness of all these glass-meets-metal phones. In an era where many flagships implement the latter construction, the all-metal design approach of the OnePlus 5T feels refreshing. And it is just as much of a good-looker as most of the other phones it's competing against. Generally speaking, it's a recycled design with a few minor changes to the recipe, but in a sea of metal-and-glass phones, this all-metal one still commands attention.
While the OnePlus 5T adopts many of the trends we spoke of earlier, there are two in particular it's missing. For starters, it lacks any sort of water resistance, which is something that many of today's flagships offer. In addition, sticking to an all-metal design means the 5T doesn't offer wireless charging. Nevertheless, OnePlus remains to be a proponent of the headphone jack, so we're grateful that it still sees and acknowledges its purpose.
Display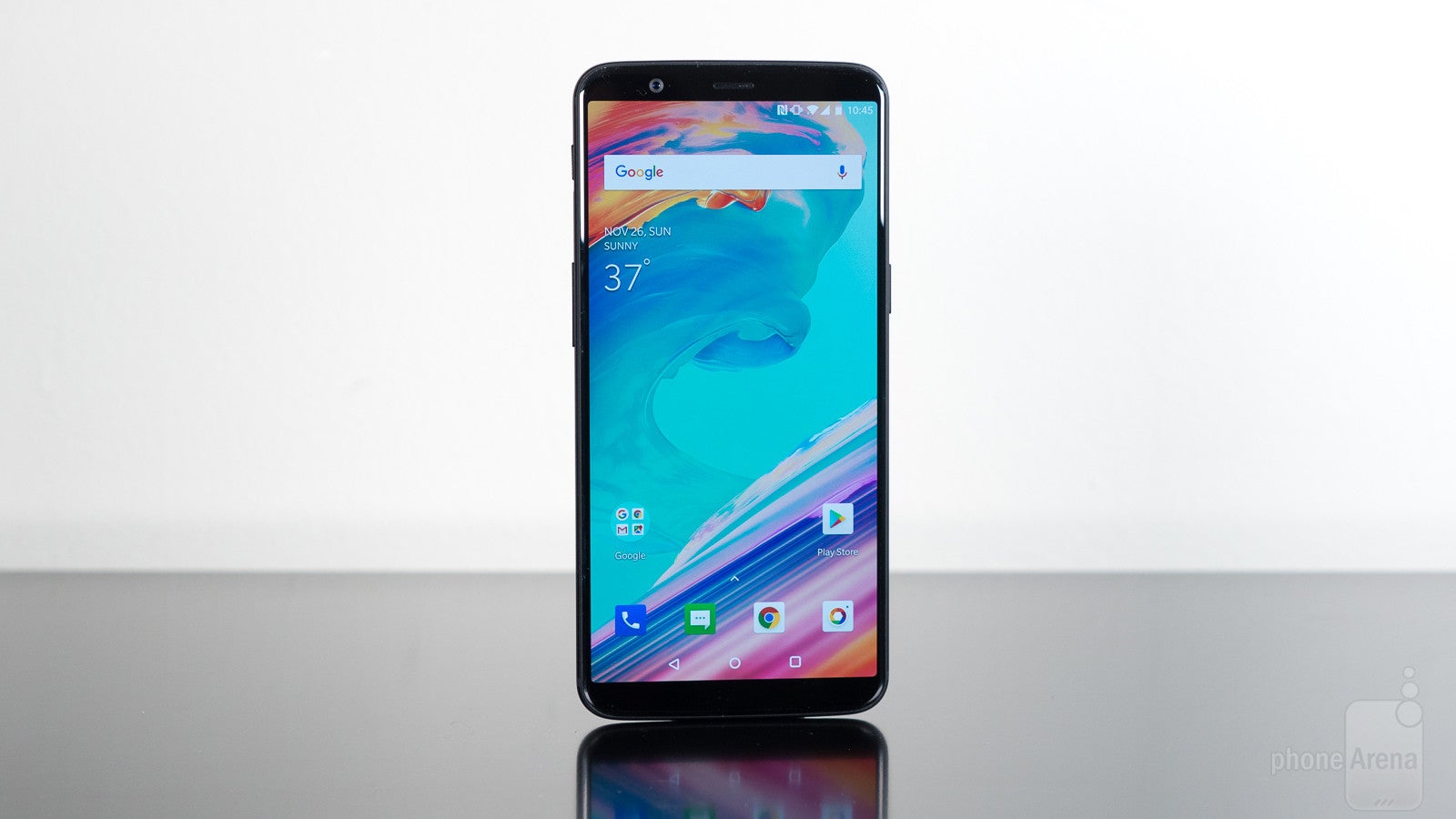 Competing on the same playing field as many of its high-end rivals, the OnePlus 5T jumps on the 18:9 screen aspect ratio trend. In this case, OnePlus has thrown in a 6.01-inch 1080 x 2160 Full Optic AMOLED display protected by Corning Gorilla Glass 5.
While the OnePlus 5T certainly makes for an impression with its all-screen looks and minimal bezels around its display, screen resolution is lower than what Quad HD displays, such as the one on the Galaxy Note 8 or the LG V30, deliver. On the other hand, the pixel density of 401ppi on the OnePlus 5T is respectable and more than plenty for normal usage, unless you're a die-hard mobile VR enthusiast.
Beyond resolution, this AMOLED panel runs cooler with its color temperature by default, evident in the bluish tint with the color white. However, this can be easily remedied by adjusting the calibration in the display settings.
Lastly, both its viewing angles and brightness output are decent, showing little distortion at wide angles and ample visibility outdoors with the sun present. AMOLEDs typically exhibit this vibrancy, but strangely here with the OnePlus 5T, there's a dullness to the way it looks. Overall, we're not entirely blown away by the display, seeing that there are plenty more out there that command attention, but we're at least content by what it delivers.
Display measurements and quality
Interface and functionality
The beauty of OnePlus is its budding community, where users provide feedback based on their experience. This helps shape the handset's software, named Oxygen OS, both visually and functionally. Oxygen OS refines the core Android experience without throwing in unnecessary extras. There's zero bloatware too. The results in a clean interface – one that doesn't stray too far from stock Android.
Many of OxygenOS's features we're familiar with are still present: Reading Mode that filters out blue light, Expanded Screenshot that allows you to capture a screenshot of an entire vertical web site, a Gaming Do Not Disturb mode, and much more. With this latest version, however, they're including this useful Parallel Apps feature, which essentially clones an app so that you can run two accounts simultaneously. So far, the supported apps include things like Facebook, Instagram, Twitter, and Skype. It's useful if you want to separate work from personal, and we hope that this feature will be extended to more apps.
For the most part, OxygenOS 4.7.2 suffices in delivering tangible experience that make operating a phone simple and intuitive. But there's an asterisk next to that because it's running on top of Android 7.1.1 Nougat at the moment instead of the latest 8.0 Oreo. For some folks, this might be a deal breaker, but like most flagships around, it's only a matter of time before an update arrives.
Face Unlock

Face Unlock
Another trendy feature adopted by the OnePlus 5T is this advanced facial unlocking implementation. While the fingerprint sensor is undeniably swift with its response rate, this new face recognition feature adds another layer to the mix. From the looks of it, there doesn't seem to be any additional hardware in play here, so it's left to software and algorithms that are used to identify a face through the front-facing camera.
In our experience, Face Unlock worked really fast – a quick tap of the power button, with the phone being directly in front of us, is all it takes to unlock the OnePlus 5T almost instantly. And you know what? It even manages to work in the dark too! Though Face Unlock won't trigger if the phone is tilted even slightly. Its front-facing camera has to be aimed straight at the user for the feature to work.
Processor and performance
Just like its sibling from a few months back, the OnePlus 5T leverages the same Qualcomm Snapdragon 835 SoC. The base model is supported by a generous 6GB LPDDR4X RAM, while the other option boasts an even more monstrous 8GB of RAM. Is it overboard? Maybe, but it surely will turn spec-conscious individuals because of the unprecedented amounts. It's worth noting that the tallies are identical to the OnePlus 5, so while they're higher than most other phones, it's been done already.
Regardless, we can attest that the OnePlus 5T runs smoothly – as you'd expect from a phone of its caliber. Even though it exhibits a response we'd classify as smooth and quick, we wouldn't go far to say that it feels snappier in performance than the Google Pixel 2 XL, the gold standard amongst Android smartphones. Nonetheless, it's no slouch either, as it attains some considerable marks in the various processing and graphics benchmarking departments.
Available in either 64GB or 128GB capacities, the price difference of $60 between the two is far more comforting than what most other phones command. Expandable storage isn't an option.
Camera
OnePlus is no stranger when it comes to dual-camera implementations, having already established that with the OnePlus 5 from not too long ago. This time, however, they've changed one thing – the secondary camera, which is now a 20MP Sony IMX 376K sensor with an f/1.7 aperture. It's not a telephoto one like what's found with the OnePlus 5, but rather, it activates for low light shots and utilizes this Intelligent Pixel Technology that "combines" the sensor's individual pixels into groups of 4 and merges their data.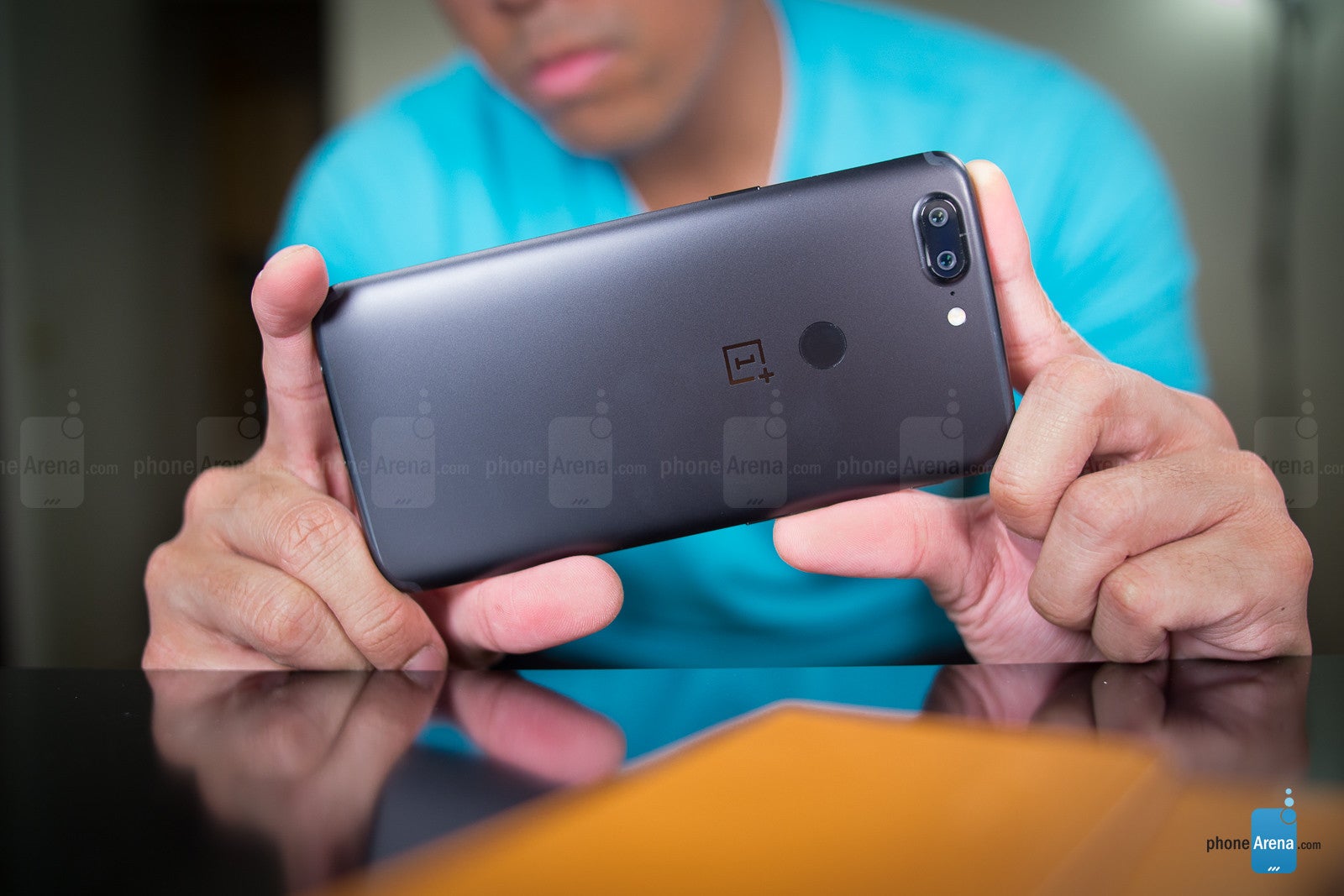 The whole thing smells a lot like HTC's UltraPixel concept, the main intent being to give the 5T a boost when taking low-light shots. Meanwhile, the primary camera is still based on the same 16MP Sony IMX 398 sensor, with an aperture of f/1.7. Naturally, the dual-camera system is also there for portrait shots – wherein subjects are isolated and the background is blurred out.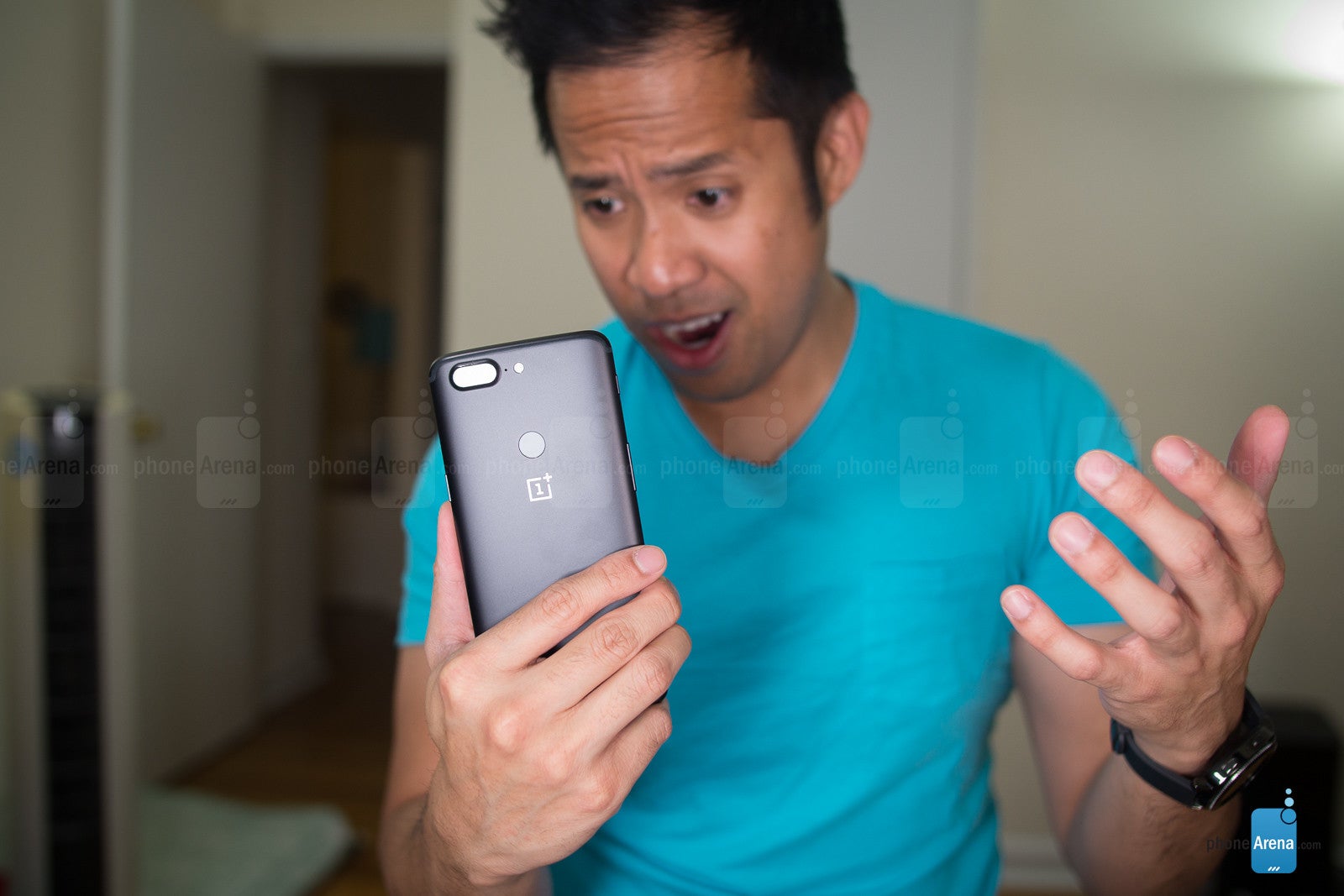 Before we get into the nitty-gritty about the camera's performance, we'll quickly graze through the camera interface. It's an intuitive interface that allows us to quickly switch between its modes by swiping to the left. For the most part, it's fashioned together to appease both novice users and enthusiasts – evident in the "Pro Mode" that dishes up features like a histogram, level gauge, and the ability to shoot in RAW.
Image Quality
Having been spoiled by the splendid performance of the Google Pixel 2 XL's camera, we'd say that the quality here with the OnePlus 5T is fine at best, but definitely not something we'd classify as class-leading. Most situations are handled well by the OnePlus 5T's camera, producing sufficient details and slightly warmer toned colors – just as long as lighting is abundant. All told, its performance mirrors to what we saw previously in the OnePlus 5. It's good, but not great.
When photos are snapped under low light, they tend to exhibit a grainy tone and softer details, meaning that the secondary camera made specifically for such situations may not be as great as OnePlus wants us to believe. Using the dual-LED flash to combat those deficiencies tends to produce unwanted, unnatural colors – like the same greenish hues found with the OnePlus 5's performance.
As for the front-facing camera for selfies, it's capable of producing nice shots – though, the best results are found with natural lighting. When the lighting is plentiful, details come out extremely sharp, but indoors or shots taken under artificial lighting, shots tend to become softer in tone.
Portrait Mode
Even with the dual-camera implementation, the OnePlus 5T's portrait shots aren't entirely the most reliable. Not only do you have to be mindful about the distance, since it'll only work when your subject is within a certain proximity from the camera, but you also need to ensure there's enough lighting in the scene.
After experiencing first-hand how the Google Pixel 2 XL is able to deliver amazing portrait shots using only a single camera, the performance here out of the OnePlus 5T's dual-camera setup isn't as convincing. Frankly, its performance is a toss-up because sometimes it nicely identifies and separates background elements from the subject. And in other times, it does a poor job of it – especially under low-light situations.
Video Quality
The OnePlus 5T is capable of shooting video in 720p at 30 FPS, 1080p at both 30 and 60 FPS, and 4K at 30 FPS. Equally so, we're not particularly sold by its video capturing performance either. Sure, it does nicely for most occasions, but there's some evidence of noise and graininess even with video shot under ideal conditions, not to mention the distracting jello effect introduced by the image stabilization algorithms.
Speaking of which, since the OnePlus 5T lacks OIS, it instead relies on its Electronic Image Stabilization to stabilize footage. It does nicely to combat against minor shakes, but it's not effective when there's just an intense amount of movement. In particular, it exhibits this somewhat robotic movement. As for its quality, you're naturally going to achieve the best results shooting in 4K, but 1080p quality isn't bad either.
Oddly enough, it seems as though that the EIS might be causing a little bit of havoc when recording video under low light. Not only are we greeted to significantly softer-toned footage, but the EIS seems to be affecting the camera's focus – resulting in this jarring appearance with videos. It's undeniably distracting, which makes us less likely to shoot with it.
Multimedia
The display's 18:9 screen aspect ratio makes the OnePlus 5T ideal for watching those new movies and TV shows recorded specifically in these proportions. Most YouTube videos, however, are shot in a ratio of 16 by 9, so if you choose to fill out the entire screen by pinch zooming, you'll be effectively cropping out a portion of the frame. It is also worth pointing out that the OnePlus 5T doesn't offer the same kind of HDR video support we find in other phones.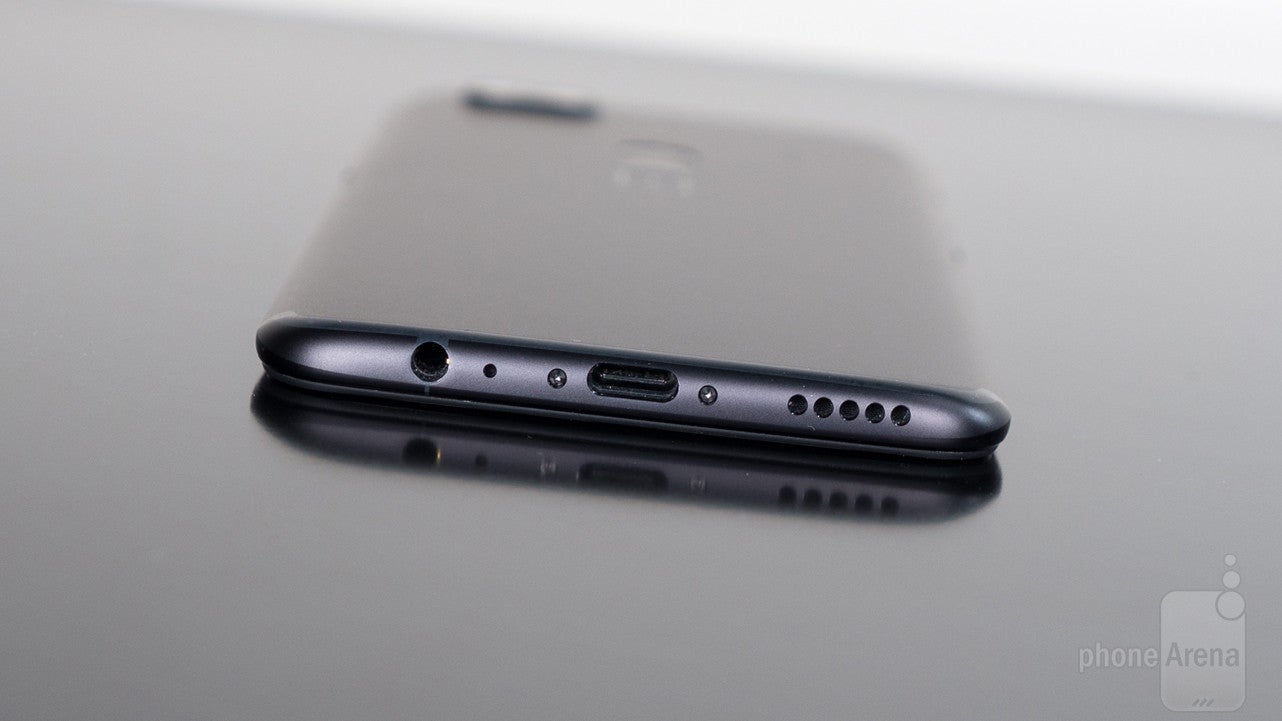 When it comes to music, we have to applaud OnePlus for continuing to believe in the importance of the headphone jack. Its presence here with the OnePlus 5T offers us the convenience of connecting our favorite pair of headphones, without having to worry about carrying an adapter or dongle of some kind.
If that's not enough for you, we're happy to report that the OnePlus 5T's single speaker, which is situated next to its USB Type-C port, delivers phenomenal audio filled with rich and robust tones. It's also extremely powerful with its output, easily capable of covering smaller, confined areas with its richness.
Call Quality
Having no major glaring issues, the OnePlus 5T gets the job done in the call quality department. The only hiccup to its performance stems with the slightly muffled toned voices heard through the earpiece. It's not terrible, but it just lacks depth and clarity. Thankfully, it's all smooth sailing for the speakerphone's performance and the other end of the line. Our callers mention having zero issues discerning our voice, even in noisy environments.
Battery Life
You'd think that OnePlus would include a battery of larger capacity this time around, especially being dealt with more real estate and a larger screen, but the 5T is still boasting a 3300 mAh battery cell – identical to the one in OnePlus 5 before it. Luckily, it doesn't seem like battery life is affected in a negative way, seeing that its performance is above average. Even though it doesn't break any records, we found the phone continuing to work well into a second day of normal usage.
Paired with the same Dash Charge technology as before, it's mentioned by the company to achieve a mark of 58% after charging for only 30 minutes. In our testing, it managed to get through 56% in that span of time, which is still more than respectable after clocking in at 93 minutes for a full charge.
Conclusion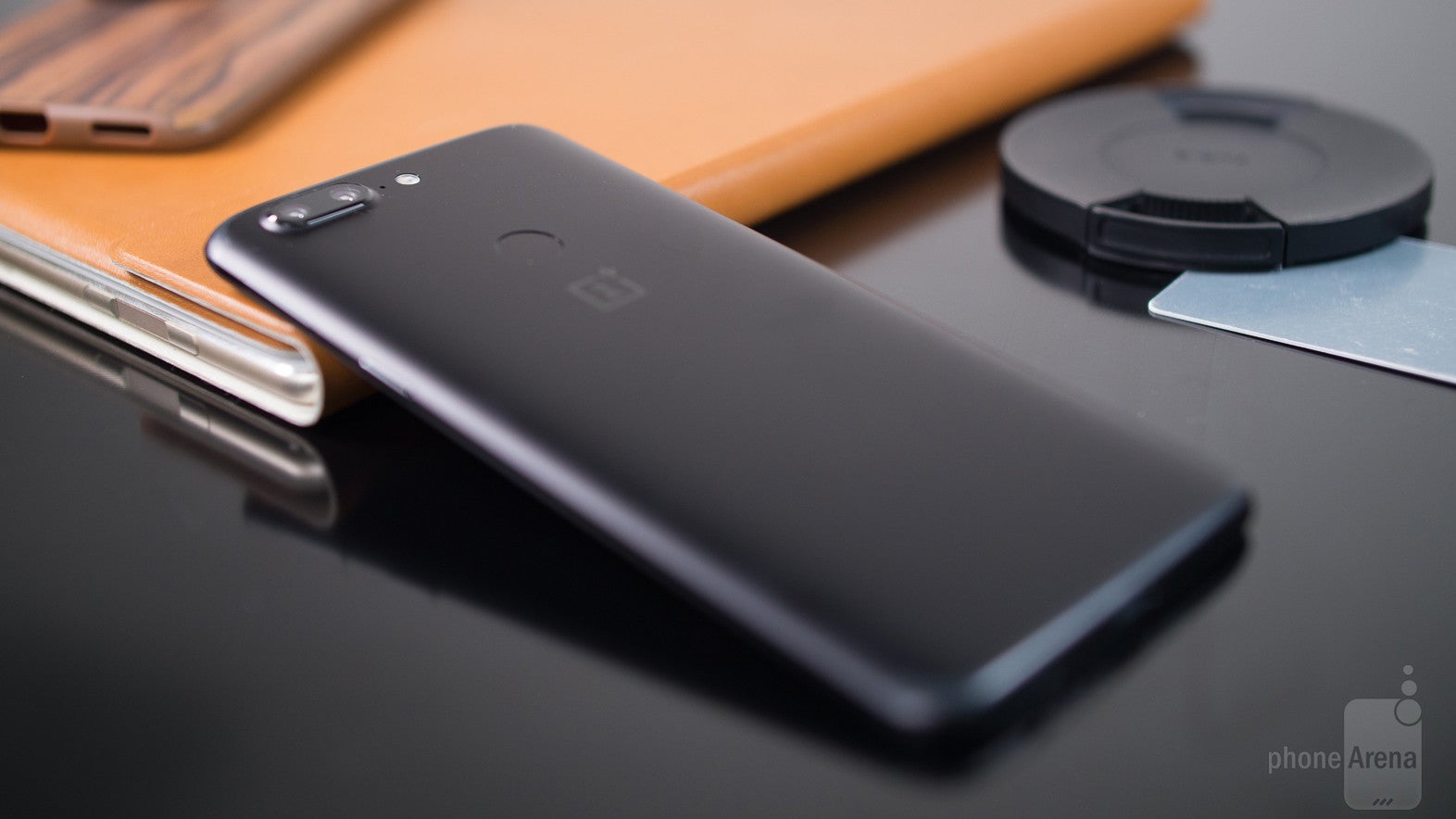 Collectively speaking, there is nothing dramatically groundbreaking about the
OnePlus 5T
, which, instead of introducing novelties, adopts many of the trends we observed throughout the year. Despite that, there is a singular aspect about the phone that makes it one of the most compelling devices released in 2017 – its hard-to-beat price point of $499! Considering that the majority of ultra-premium phones hover closely to the $1,000 range, the cost of the OnePlus 5T is a remarkable defiance that shouldn't go unnoticed. Seriously, it matches most of its competitors in the specs department – all the while being a fraction of the cost! That's absolutely impressive on so many levels, making the OnePlus 5T a valiant offering if you're looking for that flagship-grade, top-bang-for-the-buck smartphone, but are on a tight budget.
However, as much as we're impressed by its low cost, The OnePlus 5T is not a surefire winner that can topple the greats in the high-end space right now – more so if you're willing to spend the extra money on getting a comparably spec'd smartphone without the compromises. Phones like the
Google Pixel 2 XL
,
Samsung Galaxy Note 8
, and
LG V30
will cost you a whole lot more to pick up, but they do offer a lot more in terms of features over the OnePlus 5T. If you're able to overlook some of its deficiencies, however, namely its underwhelming camera performance, lack of wireless charging and absence of water resistance, the OnePlus 5T would be an excellent choice.
Update

: Read our OnePlus 6 review!