New Samsung video shows four of the Galaxy Note 4's main features
38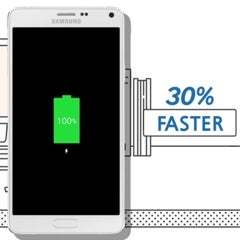 Samsung recently started selling its
Galaxy Note 4
flagship handset, though most markets won't get the device
until sometime later this month
. To make sure customers know what the new Note is capable of, Samsung today released a "powerful performance feature roundup" video.
While the video doesn't reveal any features that we didn't already know about, it does a good job at presenting the enhancements that the Galaxy Note 4 comes with, including the 5.7-inch Super AMOLED display with 1440 x 2560 pixels, its 16 MP rear camera with Smart Optical Image Stabilization, a wide-angle 3.7 MP front-facing camera with f/1.9 aperture, and a faster charging battery (the Note 4 can be fully charged 30% faster than the Note 3). You can see the video below. Additionally, you should also check out our own
Galaxy Note 4 in-depth video overview
.
Yesterday, Samsung unleashed another Galaxy Note 4 video - this one showing that
the device won't bend
as easy as
other
smartphones.
Do you plan to buy the Samsung Galaxy Note 4 when it arrives in your region? Let us know it the comments!