Samsung shows how strong the Galaxy Note 4 is by using a three-point bend test and a human weight test
42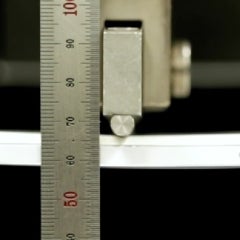 The
iPhone 6 Plus #bendgate saga
isn't over yet - despite the fact that Apple ruled out the issue as being an isolated one, with
only 9 customers
having formally complained about bent iPhones. Following lots of bend tests (performed on iPhones, as well as on other handsets) and numerous jokes about the whole story, Samsung today released a video which shows that its brand new
Galaxy Note 4
will have no problems related to bending.
Samsung has conducted a "three-point bend test", as well as a "human weight test" to prove how durable the Note 4 is. The latter test simulates the handset being repeatedly (hundreds of times) sat on by a 220 pounds (100 kg) person. Of course, the Note 4 bends in both tests, but it regains its initial shape with no damaging effects, according to Samsung. The handset maker says that the secret behind the Note 4's durability is related to its metal frame (including a magnesium bracket) and a "mutually reinforcing structure between parts."
Samsung didn't comment on the Note 4 hardware gap issue that we reported about a few days ago - likely because this is, in fact,
a "necessary manufacturing feature" rather than an issue
.
The Galaxy Note 4 went on sale at the end of September in South Korea, and will be
released in 140 other markets
around the world by the end of this month. In the US, all major carriers
will offer the Note 4
starting mid-October.