New Evernote version 2.0 beta for Android available from Android Market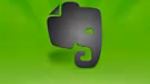 Now available in the Android Market, the updated 2.0 beta version of Evernote for Android is the perfect place to send all of those thoughts and ideas that you don't want to forget. Pictures, web sites, audio, video, etc. can all be saved and filed, ready for you to recall any of it on another day. Think of the app as a storage facility for all of the information in your life that is important. And even when you are offline with no network access, you can still get into your Evernote account.
The new build is faster and features a new home screen with a new UI for searches, and gives you new options for saving information. Sorting and browsing for your info has been improved as has the method of creating a note and multiple attachments. You will also notice an improvement in the apps widgets and shortcuts as those running devices using Android 2.1 or higher can search directly from their Homescreen.
Evernote version 2.0 for Android can be downloaded for free from the Android Market. The Premium version, which includes the ability to send information to a notebook computer to be viewed offline, also allows you to upload 500MB of data monthly, works with more file types,and gives you enhanced security. For those extras, you will be charged $5 per month or $45 for a year. You can upgrade to the Premium package by clicking on this
link
.
source:
Evernote
Recommended Stories