NFL's Tampa Bay Buccaneers plan on going to the Super Bowl using the Apple iPad 2
13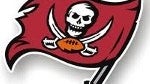 When Tampa Bay Buccaneers coach Raheem Morris
used an Apple iPad 2 to watch prospects
with GM Mark Dominik and player personnel director Dennis Hickey, it was love at first sight. Soon, the team was handing out Apple's tablet to every player. In the past, when a Tampa Bay player wanted to see a film of a past game, he had to order a DVD from the team and fast forward to the plays that featured that specific player. And each player was responsible for carrying around a phonebook sized playbook (not the RIM tablet) that contained all the plays, patterns and blocking assignments that had to be memorized. Now with the Apple iPad 2, a player carries around a much lighter tablet and when viewing game films,
simply flicks the screen
until he finds the plays that interest him.
The decision to go ahead with the Apple iPad 2 came from Bucs co-Chairman Bryan Glazer who only needed a couple of minutes to
realize the potential of giving each player a tablet
, according to Coach Morris. 90 Apple iPad 2 units were ordered at a cost of between $500 and $600 each, and now the entire Tampa Bay Buccaneer roster listens to their own favorite music while studying the playbook and watching past games. And Bucs fans, don't worry that Bill Belichick and the New England Patriots are going to grab one of those tablets. If one of the Apple iPad 2 models should fall into enemy hands, it can be easily wiped by remote.
While Tampa Bay is the first NFL team to employ the Apple iPad 2, the way things happen in the routine-laced world of sports, if the Bucs win the Super Bowl this year, Apple can expect a
huge order from all of the remaining NFL teams
for the iPad the very next day.
source:
St.PetersburgTimes
via
TUAW