Motorola Moto 360, new Moto X and Moto G event (Q&A) livestream: watch it here
30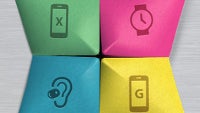 The
Motorola Moto 360
, the new Moto X (yes, that's the official name for the rumored Moto X+1) and the new Moto G (and that's the official moniker for the rumored Moto G2) are coming and Motorola will livestream the announcement of the devices! Motorola held a closed-door event with the press today briefing media about the upcoming devices, but for the wide majority of consumers the official unveiling will happen tomorrow.
Now, this will not be a traditional unveiling: instead, Join Lauren Gellman, Director of Product Marketing, and Steve Sinclair, VP of Product Marketing at Motorola, will give us a first look at the new devices and take questions in a Q&A.
Motorola is planning to start unveiling the new devices even earlier, today at midnight Pacific time, at its
Motorola Mobility Twitter account
, so if you don't care about losing some sleep you could join in there as well. For all rest, stay tuned for tomorrow.