Motorola CLIQ XT may get permanently shut out from Android 2.1
4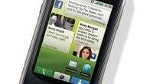 Back in September, we
reported
that the Motorola CLIQ XT would be getting the Android 2.1 upgrade early in the fourth quarter of this year. Now that we are in the last month of that quarter and owners of the handset are still rockin' with Android 1.5, obviously something has gone amiss.
The latest update information straight from Motorola does not look too good for CLIQ XT owners. Those who purchased the device through T-Mobile were probably miffed to learn that the manufacturer says that additional testing is in process with more information coming when available. On the other hand, those who purchased the Motorola CLIQ XT from Walmart and its Family Mobile Service have to bite the bullet completely as those units are forever stuck on Android 1.5.
There was nothing in the Motorola "chart" related to Android 2.3. It looks like the short-term concern was for Android 2.1 and 2.2. The Froyo upgrade has been long completed for the original Motorola DROID and is still available for users of the flagship Motorola DROID X.
source:
Motorola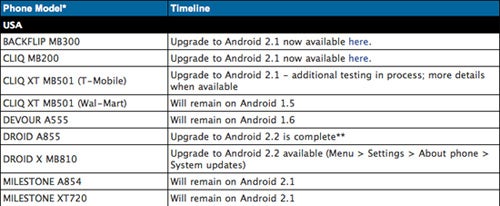 Owners of the Walmart-sold Motorola CLIQ XT are frozen forever with Android 1.5