Deal: Save $40 when you buy a Moto G5 Plus and a Cricket refill card
1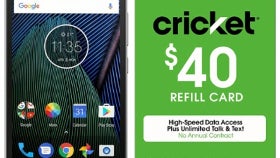 In case you're looking for an unlocked, affordable mid-range smartphone (in the US), right now, there's likely no better option than the
Motorola Moto G5 Plus
. Sold for prices starting at $229, the G5 Plus offers long battery life (with fast charging times), Android Nougat, and plenty of other nice features for this price range.
If you're a
Cricket Wireless
customer, or want to become one, there's a Moto G5 Plus deal for you currently available at Best Buy: you can save $40 when you're purchasing a G5 Plus and a Cricket refill card of at least $40. Basically, you're getting a refill card for free with the G5 Plus, and you can use it to buy add-ons to an account, add money to an existing balance, or pay for service - for example, with $40, you can pay 1 month of Cricket Basic (a no-contract plan including unlimited talk and texts, plus 3 GB of data).
This deal includes both the Moto G5 Plus with 2 GB or RAM and 32 GB of storage space (which costs $229.99), and the model with 4 GB of RAM and 64 GB of storage space (offered for $299.99). The two versions of the phones are available in either gold, or gray. For more details, check out Best Buy's website via the source link below.
No images
source:
Best Buy