Moto G against the world: size comparison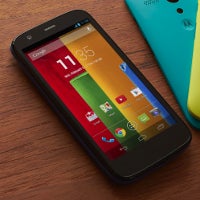 When the Moto X came out, it surprised us with how compact its body was, considering its large, 4.7" display. Even with such a sizable screen, it was almost as small as the iPhone 5s, and that means something. This is definitely a design characteristic we'd love to see with as many other smartphones as possible. Well, now that the Moto G has just been announced, we're eager to see if it has kept this valuable trait.
What you can see below is exactly how the Moto G stacks up against a bunch of popular smartphones in terms of size. Spoiler alert: The Moto G is just a tad bigger than the Moto X, but it's still impressively compact. Thank you, Motorola!