More video of BlackBerry 6 OS running on the still unannounced 9780
0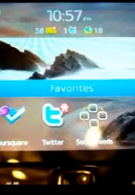 Last month, we
showed you
some video of RIM's new OS powering the BlackBerry 9780. Some more film has surfaced of the BlackBerry 6 installed on the handset. So far, RIM has not introduced the 9780, which figures to be one of the first non-touch models to launch with the new software. The phone itself is a refreshed version of the Bold 9700, with the new OS and WebKit browser, an upgraded 5MP camera, and twice the RAM (512MB) of the original.
Earlier this week, we
reported
about some leaked documents that showed a model called the BlackBerry Bold R020. With specs that match those on the 9780, it doesn't take much imagination to think that these two units are the same phone. Under that assumption, the Bold 9780 could launch in October and a model sans camera will be available. Considering that a
now removed video
on the 9780 showed the phone with the T-Mobile launch screen, we would expect the nation's fourth largest carrier to offer this handset, with AT&T a strong candidate as well.
source:
SlashPhone