Leaked photos show off BlackBerry Bold R020 and 9670 Oxford flip
5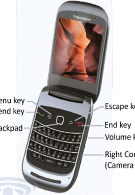 A number of leaked document pages gives us an idea of what RIM has under its sleeve for the near future. The top-of-the-line Bold 9700 is apparently going to get a minor refresh in the form of the Bold R020. Listed as a "RIM Confidential" for internal use only, one page of the document shows a photo of the phone with the heading "Continuation of a Success Story" and lists some of the specs of the device. While RIM could have taken this opportunity to make some groundbreaking changes to the Bold, the R020 is equipped with the same sized display at 2.44 inches, and a 480 x 360 resolution. The processor is the same 624 MHz chip found in the 9700 and the battery remains the same 1500mAh cell that powered the first model.
There are some improvements and upgrades on the Bold R020, starting with the new BlackBerry 6 OS and the new WebKit browser. Also upgraded is the camera, now with 5MP and AF-an upgrade from the 3.2MP shooter on the 9700-and a doubling up of RAM to 512MB on the new device. According to the document, this Bold refresh is expected to launch in October and could very well be the 9780 that we have
reported
about during the last few weeks. A version without a camera is expected to be made available.
The second new device leaked is a clamshell flip phone called the BlackBerry 9670 Oxford. Heading to Sprint and possibly Verizon, the Oxford has an external display that weighs in at 240 x 320 pixels and an internal one with resolution of 360 x 400. BlackBerry 6 is on board and while the clamshell design reminds you of the Pearl Flip and SureType, the Oxford is equipped with a full QWERTY keyboard. The 5MP camera offers AF, face detection and image stabilization while an optical trackpad helps you navigate the phone. To boost memory, RIM is throwing in a pre-installed 8GB microSD card. There is no word on when this handset is supposed to be released.
source: BGR
(Bold R020)
,
(Oxford 9670)