More proof of March 24th launch for HTC HD2 on T-Mobile?
0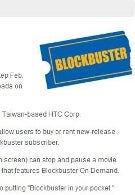 We recently
reported
that leaked T-Mobile promotional material revealed a March 24th launch date for the superstudly HTC HD2. Earlier today, we
told you
all about the entertainment options that will be made available on the handset. One of the features is a BLOCKBUSTER on demand app that allows the user to download movies to his HD2. The interesting thing is that when Home Media magazine ran a story on the partnership, they quoted T-Mobile as saying that the content downloads would begin March 24th. Coincidence? We think not! If you have ben waiting to get your hands on the HD2 since back in the days it was the Leo, the days are finally drawing nearer. Circle that calendar and start figuring out what excuse you'll use at work because in about 5 weeks, the HD2 could be sticking its head out of your pocket.
HTC HD2 US Specifications
|
Review
(European version)
source:
HomeMedia
via
TmoNews