March 24 launch date for HD2? ZEPPELIN to be called CLIQ XT?
4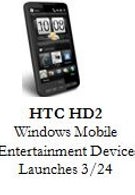 A leaked snapshot of some T-Mobile promotional material would seemingly give a date when we can expect the amazing, drool producing handset to make its way on to American soil..Without a doubt, the HD2 is going to do wonders for T-Mobile and perhaps even for Windows Mobile starting with its launch on March 24th. Another piece of news that was derived from the leaked promo material is that the Motorola ZEPPELIN that we
showed you
the other day, is actually the CLIQ XT. This explains why the ZEPPELIN had many of the same specs as the CLIQ with both models featuring the social networking integrating MotoBlur and both launched with Android 1.5. It also explains why the copy under the picture of the phone says "Touchscreen only", a subtle hint that the CLIQ (without the XT) carries a physical QWERTY. The CLIQ XT is set to launch on 3/10. Other handsets coming to T-Mobile based on the photo include a color refresh of the Samsung Gravity2, available in dark blue on 2/24, and the launch of the Nokia 5230 aka Nuron on 3/1. This is a touchscreen phone that is "low cost" according to the photo.
So which of the three is keeping you up at night? Do we even have to ask?
HTC HD2 US Specifications
|
Review
(European Model)
Motorola Zeppelin Specifications
Samsung Gravity 2 Specifications
|
Review
source:
ppcgeeksforum
via
TmoNews