More Samsung Galaxy S6 design details leak - taller, slimmer, with a new set of ports
59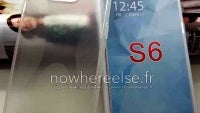 French website NoWhereElse published a set of elaborate Galaxy S6 case schematics sent to them by an anonymous leakster. What we're able to extract from them are the handset's purported dimensions - 5.65 x 2.78 x 0.28in (143.52mm x 70.70mm x 7.19mm). This means the S6 will probably be a little taller, a little less wider, and around 0.039in (1mm) thinner than its predecessor.
We can also see that Samsung is keeping the design in line with the tradition, as the schematics portray the same rectangle with rounded corners shape, with the power button placed to the right and volume buttons to the left sides of the device.
The schematics confirm
the new placement of the camera flash and heart rate sensor
, which have been put to the left of the camera lens, instead of below. Additionally, the bottom part of the case has as many as three different holes cut into it, which could mean t
he interactive cover leak we previously reported on
could be closer to the truth than expected. Remember, the
Galaxy S5
had only a flap that sealed two microUSB 2.0 and microUSB 3.0 against water. There are also two holes cut on the top, right next to each other - they are probably for the headphone jack and IR.
According to the latest intel, the Galaxy S5 will sport a 5.5-inch Quad-HD display. While it won't be a problem for Samsung to fit a larger display without significantly growing the chassis, its purported width seems a little small for the occasion. Other rumored specs are an Exynos 7440 64-bit octa-core SoC, 3GB of RAM, and a 20MP main camera. The handset is said to be constructed of glass-topped plastic covered by a metal frame, akin to the Sony Xperia handsets.
On one of the photos, you can see how the case maker imagined the Galaxy S6's front panel. Essentially, we see
a straightened-out Galaxy S5 lookalike
with notably thinner bezels and a slightly larger screen. Although we doubt this is the final word on the Galaxy S6 design, it has to be close to what we'll be seeing at MWC in March.