Leaked case suggests new camera flash and heart rate sensor placement for the Samsung Galaxy S6
15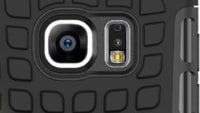 Ready for a small glimpse at how the Samsung Galaxy S6 is coming together? Cleanse thy body, put on thy robe, light the candles and come back to take a peek! An alleged GS6 case leaked moments ago, showing the phone's new back camera placement. We have to say, we are a little reserved towards this leak, as even the naked eye can discern that the case's frontal view shows a poorly "photoshopped" Galaxy S5 resting safe inside it.
However, the back panel view seems genuine, and it's worth focusing on that. As you can see, the elliptical hole which houses the camera flash and heart rate sensor has been moved from its former bottom position to the right. We can't come up with any theories explaining Samsung's decision, but it obviously has something to do with
the smartphone's refreshed design
.
Speaking of which, we pondered whether the case's side view shows a glimpse of the GS6's metal frame. We think the answer's no, because cases of this particular type have protective plastic and rubber layers on the sides, which completely cover the smartphone from all angles. Thus, what we're most likely seeing here is part of the case, not the GS6. If we aren't expressing ourselves clearly enough, check out the example with the
Galaxy S5 Active
's rugged case (2nd photo in the slideshow) - how the smartphone looks in and out of it.
As the Galaxy S6's March announcement date nears, meteorologists report high chances of leak showers, escalating in intensity prior to the announcement and sharply dropping after it. Keep the salt shaker nearby so you don't get drenched!
source:
webtrek.it
Read even more Galaxy S6 news right here: