More Gingerbread men spotted at the Googleplex?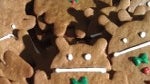 As we
reported
, just a few weeks ago the Googleplex was the location where a giant Gingerbread man was placed. The excitement was all over the imminent launch of Android 2.3, aka Gingerbread. The OS is expected to be loaded up on one of the next Superphones and as we
told you
, Google would like to see this happen before the end of the year when the dual-core devices are expected to be launched early in 2011.
So does the delivery of this new batch of Gingerbread men represent something important as far as Android 2.3 goes? Not really. These Gingerbread men are cookies being baked in the shape of Andy the Android, for those eating at the cafe at Google's headquarters. Now that everyone at Mountain View has a full tummy, maybe they can get Android 2.3 rolled out.
source:
Twitter
Recommended Stories