Microsoft giving Windows Phone apps a push with 'Next App Star' contest
4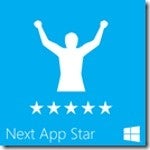 Windows Phone is
trying hard to become the third ecosystem
in what's effectively a smartphone duopoly between Android and iOS, but first it has to accumulate the apps and with 150,000 in its app store it is still far from getting there.
And now, to get developers excited and coding, Microsoft is launching its
"Windows Phone Next App Star"
contest. If you are a registered developer you can sign up for the contest by March 5th, and if you get enough votes in April, you could make it to the 64 finalists.
From there on, it will be Microsoft's turn to test the apps and announce the winner, but the company has promised
"prizes along the way to encourage people to participate and ways for you to promote your app and gain new fans."
The one who wins the grand prize will get featured on a TV ad for Microsoft's Windows Phone which seems like a great way to endorse an app.
But overall, those
"thousands of dollars in prizes for the developers of the 64 apps that get selected, including a Nokia Lumia 920 Windows Phone and a one-year free Dev Center subscription"
definitely sound tempting.
source:
Next App Star
via
Tech Crunch