Microsoft Outlook mobile gets new Office Lens options, Teams integration, more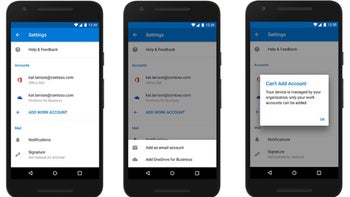 Microsoft is bringing even more new features and improvements to
Outlook mobile
, but some of them, like the option to classify and label Outlook mobile emails, are only available to enterprise customers. Still, there's a lot of other additions aimed at regular consumers, including more Office Lens options, Teams integration, and improved calendar sharing.
First off, Microsoft announced that it is bringing more
Office Lens
options to Outlook mobile, which means that in addition to using the technology for photos, documents, and whiteboard images in the email app, you can now snap a picture of the card to have the contact details automatically saved in Outlook. This particular new feature will be rolled out to Outlook for Android "in the coming months," which is a bit vague.
Outlook mobile will also benefit from Team integration starting in early 2019. It will allow users to add an online Teams Meeting option to their calendar event and join a Teams Meeting right from Outlook.
Improved calendar sharing for Outlook mobile means that it will be easier to share schedules with co-workers and manage room reservations and delegated calendars. A new Add Shared Calendars feature will be available for
Outlook mobile
users very soon since Microsoft announced it's rolling out the new shared calendar experience right now.
Favorite Notifications is another new feature that enables Outlook mobile users to respond to important notifications in a timely manner. Microsoft will add a new option to allow Outlook mobile users to set their notifications to "Favorites," so they will only be notified when contacts you select send you an email or calendar event. Favorite Notifications will not be available right away, as Microsoft is expected to start rolling out the new feature "in the coming months."
Last but not least,
Outlook mobile
will gain the option to search beyond contacts, reservations, deliveries, and files to calendar events. Just like many of the features announced today, it will be rolled out "in the coming months."