Text Annotations are coming to Office Lens for Android and iOS
0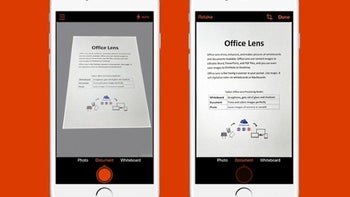 Microsoft's
Office Lens
, one of the best apps of 2015, has just received a small but important update that will allow users to put text on their photos. If you haven't yet used Office Lens, you'll probably want to know that the app enables Android and iOS users to convert images to PDF, Word and PowerPoint files, as well as save to OneNote, OneDrive or your phone.
But the most interesting option that you have when using Office Lens is the ability to trim, enhance, and make pictures of
whiteboards
and documents readable. With the latest update, you will be able to put text on your photos.
The new feature is called Text Annotations and must be used with the inking tool. Aside from rolling out this new option, Microsoft also confirmed that some bug fixes and performance improvements are being pushed out to
Office Lens
users as well.
According to Microsoft, both the Android and iOS versions of Office Lens are getting this update, although the app version is different for each platform: 16.0 (Android) and 2.16 (iOS).