MessagEase keyboard improves your typing speed
12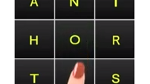 "You have a smartphone, why not have a smart keyboard?"asks the video produced by
MessagEase
. This is an alternative third party keyboard that is a lot different than your usual QWERTY designed input. Billed as the
World's fastest touchscreen keyboard
, MessagEase is a box that contains 9 of the most used letters (a,n,i,h,o,r,t,e,s). Those letters are tapped while to access other letters, you slide to them.
With word prediction and the unusual set up, users are typing away at record setting paces. When you download the app and install it, you also receive a few typing games so that you practice using it. Right now the record is
80wpm
. And with MessagEase you can change the size of the keyboard and even make it blank without letters, numbers or symbols for those who are distracted by them.
The MessagEase app is backed by years of research and is a free download from the Google Play Store and from the Apple Play Store. The listing for Android says that it is the perfect keyboard for those using
Google Glass
. You can check out this innovative keyboard by watching the video below.
source: MessagEase (
1
), (
2
)