Meet the Notes that aren't made by Samsung
34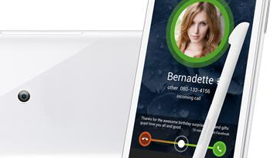 Introduced by Samsung in September 2011, the
original Galaxy Note
was seen by some as a useless tablet-meets-phone device. With its 5.3-inch display, the first Galaxy Note was a giant device compared to the flagship handsets of 2011, most of which offered screens of around 4 inches. And yet the Galaxy Note series was, and definitely still is successful, with tens of millions of units sold around the world.
Since releasing the original Galaxy Note, Samsung launched six other Note smartphones (
Note II
,
Note 3
,
Note 3 Neo
,
Note 4
,
Note Edge,
and
Note5
), as well as four Note tablets (
Note 10.1
,
Note 8.0
,
Note 10.1 2014 Edition
, and
NotePro 12.2
). All have in common Samsung's S Pen stylus, which is definitely one of the highlight features of the Note series.
As it often happens when a certain type of new product becomes popular, the success of the Galaxy Note determined other manufacturers to think about making and launching similar devices. We're not going to talk about no-name
Galaxy Note clones
here, but about devices made by important companies. Here they are, in chronological order:
Introduced in June 2013, the Asus Fonepad Note 6 is the first Note that's not made by Samsung. It's a 6-inch (1080 x 1920 pixels) Android KitKat device that has its own stylus, complemented by a SuperNote app. Powered by a dual-core 2 GHz Intel Atom Z2580 processor, the Asus Fonepad Note 6 further features dual front-facing speakers, an 8 MP rear camera, 2 GB of RAM, and 16 GB of expandable internal memory. Oh, and it can make phone calls, too.
And here is Asus' second Note: the VivoTab Note 8, which is a tablet running Windows 8.1. This, too, has a stylus pen, though it can't make phone calls. The tablet has an Intel processor inside (a quad-core Atom Z3740 clocked at 1.8 GHz), while also offering an 8-inch display with 800 x 1280 pixels, a 5 MP rear camera, 2 GB of RAM, and 64 GB of expandable storage space.
The Redmi Note was launched in the first half of 2014, being Xiaomi's first extra-affordable smartphone to offer a display larger than 5 inches (5.5 inches with 720 x 1280 pixels, to be exact). While it doesn't have a stylus, the Redmi Note is clearly Xiaomi's attempt to lure customers who may be interested in Samsung's Galaxy Notes, but don't have enough money. Sold for prices starting at around $130, the Redmi Note helped Xiaomi ship more smartphones than Samsung in China in 2014.
While the Redmi Note is a cheap handset, the Mi Note and Mi Note Pro are both high-end smartphones, and yet they're still cheaper than Samsung's latest Galaxy Notes (Note 4 and Note Edge). Both the Mi Note and Mi Note Pro were announced in January this year, and are currently available only in China. The Mi Note costs as low as $370, featuring a 5.7-inch 1080p display, a quad-core Snapdragon 801 processor, 13 MP rear camera, 4 MP front-facing camera, and 3 GB of RAM. The Mi Note Pro comes with a 5.7-inch, 1440 x 2560 pixels display, an octa-core Snapdragon 810 processor, and 4 GB of RAM, costing around $530. Just like the Redmi Note, the Mi Note and Mi Note Pro don't have stylus pens.
This Meizu handset is the newest
Note
around, and is already available in China, where it costs about $160. That's a surprisingly low price for what the m1 note has to offer, including: a 5.5-inch display with 1080 x 1920 pixels, LTE, a 13 MP rear camera, 5 MP front-facing camera, 2 GB of RAM, and 32 GB of internal memory. The smartphone has two variants, one powered by an octa-core Snapdragon 615 processor, and another one that uses an octa-core MediaTek MT6752 CPU. In the near future, Meizu will
sell the m1 note internationally
, possibly for around $200.
Meizu's first note, listed above, was very successful. Thus, after about 6 months, the company launched a new model, called m2 note. Just like its predecessor, the Meizu m2 note offers an impressive list of features at a very low price: the handset can be purchased in China starting at about $130, but it's a bit more expensive ($199) if you want to buy it from other countries. The m2 note runs Android Lollipop customized with Meizu's own Flyme OS, and is powered by a 64-bit octa-core MediaTek MT6753 processor. Other than that, its features are pretty much similar to those of the m1 note.
Yes, Lenovo has a Note of its own, too. Released earlier this year in China and India, the K3 Note is now also available globally (via third-party retailers), costing around $160. Save for a distinct design, the Lenovo K3 Note is not too different from Meizu's m1 and m2, sporting a 5.5-inch 1080p display, and further offering a 13 MP rear camera, 5 MP front-facing camera, 2 GB of RAM, and 16 GB of expandable internal memory. The K3 is powered by an octa-core MediaTek MT6752 processor (the same that's used by the Meizu m1 note).
Xiaomi is also back with another Note. Announced last week, the Redmi Note 2 offers all the features that the Meizu m2 note and Lenovo K3 have, but uses a newer, more powerful processor: a 64-bit octa-core MediaTek Helio X10 that's clocked at 2.0 GHz, or 2.2 GHz (on the 32 GB model). What's more, the Redmi Note 2 is cheaper than its competitors, being offered for about $125 in China, where the it's already
breaking sales records
.