Magic Focus camera demo on the LG G Pro 2
8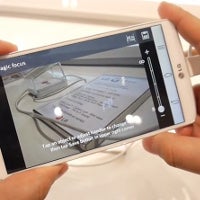 The
G Pro 2
is LG's new 5.9-inch phablet and it's not just a large device - it's a large device with a good camera. The 13-megapixel rear shooter supports optical image stabilization, but this is not the only trick up its sleeve.
Magic Focus is a neat new feature that we'd like to look at here, and it allows the G Pro 2 to capture an image and select the focus of that image after the shot is taken. What the G Pro 2 seems to do is capture an image with everything in focus and in the camera app you can then move a slider to pick the area of focus, whether it's closer to the camera or further away. Of course, the rest of the image gets blurred for a nice shallow depth of field effect.
We tried it out on the demo G Pro 2 unit at MWC, and it all works as advertized. Take a look below.