Luke, I am the Samsung Galaxy S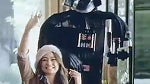 Continuing a Star Wars television ad campaign that it began last Summer, NTT DoCoMo is trying to push the Apple iPhone 4 out of first place in the Japanese sales charts. The carrier's Android flavored Samsung Galaxy S is second and the mobile operator is hoping that the ads will help the phone take over the top spot from Apple. In the commercial, Darth Vader represents the Samsung Galaxy S and shows the viewer some of the everyday things that can be more easily accomplished with the help of Darth, er, the Android flavored handset.
With two-thirds of the smartphone market in Japan, the Apple iPhone has successfully overcome the area's local tradition to buy feature phones from domestic manufacturers like Sharp and Panasonic. This is the same challenge that faces Samsung with its model, not to mention trying to unseat the iPhone as the country's top selling smartphone. Now that the Korean based company is calling upon the powers of the dark side, perhaps it won't be too long before there are some changes in the Japanese cellphone industry.
source:
electronista