Let us introduce you the new AT&T phone, the LG Neon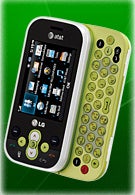 We're proud to present you the first images of the upcoming LG model, the Neon. It seems that this is actually going to be AT&T's version of the freshly-looking LG KS360. The device looks totally the same as the KS360, featuring a full QWERTY keyboard and a
2.4
-inch touch screen, the functions of which are limited only to dialing a number via onscreen numeric keypad, when the phone is closed.
The difference here, however, is that the AT&T logo is present on the front side, meaning that it will be available with the U.S. carrier. The Neon will be a youthful device, targeted at hardcore texting maniacs (one of the many such devices in AT&T's catalogue), providing them with a handy QWERTY keyboard for fast text input. Still, there's not a single word on release date and price, but let's hope that the carrier will do its job in good time.
LG Neon Preliminary Specifications
If you have some interesting info that you'd like to share with us, feel free to
Tip Us!