Lenovo's Tab 4 8 and 10 Plus tablets launched in the US at reasonable prices
1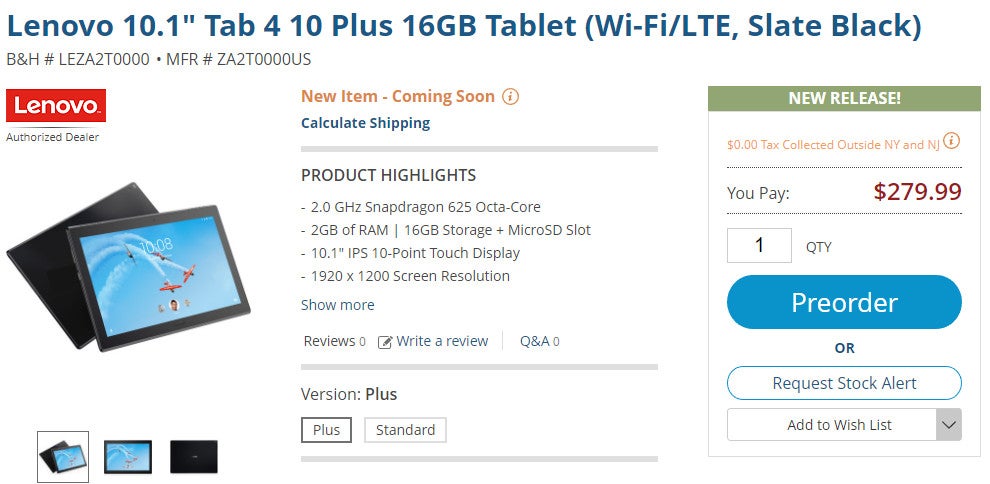 If you're looking for a cheap tablet and you're located in the United States, then you're in luck. Lenovo has just unleashed two new Tab 4 tablets (not to be confused with Samsung's Galaxy Tab slates, mind you).
Aside from the two Tab 4 slates that were launched in the US back in June, Lenovo released two additional models that are upgraded versions of the Tab 4 8 and Tab 4 10.
Both Lenovo Tab 4 8 Plus and Tab 4 10 Plus are available for purchase in the US via major retailers like Amazon and B&H. The cheapest of the two, Lenovo Tab 4 8 Plus, costs $229.99 and comes with an 8-inch display that supports 1920 x 1200 pixels resolution.
Next in the hierarchy, the Tab 4 10 Plus has the same specs as the smaller version but comes with a larger 10.1-inch display. It's available for purchase for $279.99 and ships with Android 7.1 Nougat right out of the box.
Hardware-wise, both Lenovo tablets pack 2GHz octa-core Qualcomm Snapdragon 625 processors, 2GB RAM and 16GB expandable storage. They also feature 8-megapixel rear-facing cameras and 5-megapixel selfie snappers.
It also worth pointing out that both tablets come with LTE support, so you can definitely use them with some of the major carriers in the US if that's what you want.
source: Amazon, B&H via AndroidPolice