Lenovo intros Tab 4 Android slates with stereo speakers and glass backs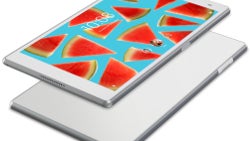 Lenovo just lifted the veil over its new Tab 4 series Android tablets - the Tab 4 8 and Tab 4 10 - with two more premium versions of those denoted with a "Plus" in the name. The pairs share specs, and differ in screen size only. The Tab 4 comes in 8" and 10" versions, with HD displays, quad-core Snapdragons, 2 GB RAM, and up to 12 hours of battery life. Tab 4 Plus comes in 8- and 10-inch versions as well, but the screen resolution is upgraded to 1080p, RAM boosted to 4 GB, and the processor is an octa-core endeavor.
The Plus pair also sports a more premium, "dual-glass tablets" design, as they are covered in protective Gorilla Glass both front and back, making the rear shiny and with "aurora-like reflection" when you tilt them. They are still pretty thin and light, though, ranging from 7.15mm to 8.4mm in thickness due to the tapered glass backs. All the tablets run on Android Nougat and sport front stereo speakers, while the Plus duo adds finger scanners and USB-C port with fast charging abilities. They also have Kid kits, which include a protective bumper and 3M stickers to prevent scratches, as well as Lenovo's Kid's Account with curated content. The prices?
They range in $50 increments, starting from $109 (Tab 4 8) and $149 (Tab 4 10), and ending with Tab 4 8 Plus at $199 and the Tab 4 10 Plus at $249. The Lenovo Tab 4 8 Plus and Lenovo Tab 4 10 Plus will come in "Sparkling White" or "Aurora Black" glazing of their glass chassis, while Tab 4 8 and Tab 4 10 will be available in Slate Black and Polar White when they hit shelves, which Lenovo says will be in the month of May.