LeTV's smartphone shipments in China soar during the second quarter
11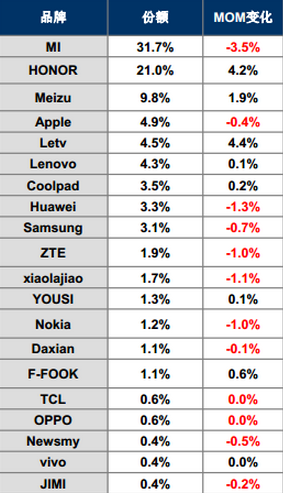 Xiaomi is the top smartphone manufacturer in China for the second quarter
Just a few days ago, we told you about
a report from researcher Canalys that mentioned how Apple was knocked off its perch
above all other smartphone manufacturers in China during the second quarter. Now, a new report from Sina uses a completely different methodology to come up with different rankings. According to Sina, Xiaomi remained on top during the second quarter in China with a 31.7% market share of smartphone shipments in the country. That was down 3.5 percentage points from the second quarter last year.
The Honor brand belonging to Huawei was second with 21% of the market. That was a gain of 4.2pp year-over-year. The remaining Huawei brands accounted for 3.3% of second quarter smartphone shipments in China, good enough for eighth place. Combined, Huawei was responsible for 24.3% of smartphone shipments in China during the three month period, which would have resulted in a second place listing.
Perhaps the biggest surprise was the huge gain made by LeTV. With phones
like the highly spec'd LeTV Max
, the company saw its share of the Chinese market go from a miniscule .1% during last year's April-June period, to 4.5% this year. That made LeTV the fifth largest shipper of intelligent handsets in China last quarter. According to Sina, Apple was barely ahead of LeTV with 4.9% of the market. Meizu was in third with a 9.8% share.
The rankings show you how fluid things are in China. A company that was practically unknown last year is now battling with Apple for a spot in the top five.
source:
mobiltelefon.ru
(
translated
)