Apple loses top market share in China as Xiaomi and Huawei take over
72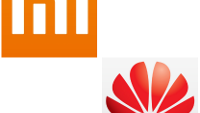 The Chinese consumer market has recently grown, and continues to grow,
at an exponential rate
. Over the past few years, the biggest names in tech have sought to capitalize, and Apple has been at the forefront of the movement to court gadget lovers across China. Cupertino has enjoyed strong sales and increased market share as a result, with the emerging economy affording many Chinese consumers the opportunity to snag a premium-priced device such as the iPhone. But having been the number one smartphone pusher for the past two quarters, the world's most valuable firm now finds itself edged out by Xiaomi and Huawei.
The day of the cheap Chinese knock-off has not yet passed, and you can still find a watered-down version of almost any top-end gizmo through the nation's flourishing black market. But by the same token, a number of reputable companies originating from China have established themselves as genuine contenders, and both Xiaomi and Huawei have reached the forefront from relative obscurity just a few years ago.
As per research gathered by Canalys, Xiaomi commanded a market share of 15.9 percent during the second quarter of this year, perching itself at the summit previously occupied by Apple. Huawei ran a close second, with an estimated share of 15.7 percent.
The fact that
Apple's iPhone 6
and
6 Plus
are now in their twilight months -- the one-year shelf life has almost run its course -- is perhaps a key factor in why the fruit company seems to have slipped off the pace. Nonetheless, as Chinese companies look to broaden their horizons beyond the mostly Asian regions they occupy, this is by no means a one-off, and established firms like Apple and Samsung will be more than wary of their increased presence.
The idea that Apple should have managed to reach top spot in China in the first says a lot about the company's popularity in this area of the world, though. iPhones, as we all know, are at the higher end of the pricing spectrum -- much costlier than a like-for-like alternative from Xiaomi and Huawei. So while market share may have waned a little in light of the impending '
iPhone 6s
', Apple's battle plan still looks to be running smoothly as far as China is concerned.
Canalys stopped short of divulging Apple's Q2 market share in China, but estimates from Counterpoint Research suggest that the figure hovered around the 12.2 percent mark.
Recommended Stories