LeEco Le Pro3, Le S3 smartphones and Explore VR headset coming to the United States
8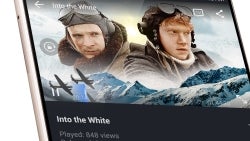 At an event in San Francisco today, Chinese company LeEco announced two smartphones and a VR headset which will sell in the United States. The smartphones are the Le Pro3, a high-end model, and the Le S3, a mid-range one. Both are priced aggresively, with the Le Pro3 flaunting a $399 price tag, and the Le S3 coming in at $249.
The Le Pro3 is powered by the Snapdragon 821 processor with 4GB of RAM and 64GB of storage. It also features a 5.5-inch display, along with a 16MP rear camera, 8MP front camera, and a 4070mAh battery. The Le S3, meanwhile, is powered by the Snapdragon 652 with 3GB of RAM, 32GB of storage, a 5.5-inch display, a 16MP rear camera, an 8MP front camera, and a 3000mAh battery. Both devices feature fingerprint scanners, USB Type C ports, and have no 3.5mm audio jacks.
LeEco wants to build a better device and content ecosystem than Amazon's
LeEco's strategy is similar to that of Amazon and Chinese vendors such as Xiaomi, in that it sells compelling devices at low profit margins to make money from various services. In addition with the smartphones, LeEco is debuting a content platform with a large list of high-profile partners such as MGM, Lionsgate, Cosmopolitan, and Esquire, to name a few. Moreover, LeEco is producing its own content with a fully owned company ran by former Paramount president Adam Goodman. The first production is
The Great Wall
, a film starring Matt Damon. Alas, details are currently light, but it's clear that LeEco wants to take on video distribution services, such as Amazon Video and Netflix.
The smartphones run the eui interface, which features the LeView "minus one screen" experience that delivers tailored content customized to the user's viewing preferences. There are also the Le and LIVE apps that are said to offer a lineup of content with a dynamic preview display and a 3x3 mosaic of streaming video. Additionally, both smartphones sell with three months of EcoPass membership, which offers a 2-year warranty, 5TB of cloud storage, unlimited movie viewing on Fandor, and exclusive deals.
As for the VR headset, the Explore VR, it's reminiscent of the Samsung Gear VR in that it's made of plastic and features a USB connector that plugs into a smartphone placed in front of the headset. The device has built-in gyroscope, accelerometer, magnetometer, and proximity sensors to support virtual reality experiences. However, the price for it hasn't been announced.
LeEco is supposed to launch its devices and services this year, although the exact dates haven't been made clear.
ALSO READ