Latest New HTC One leaks, LG G3 rumors, and the launch of iOS 7.1: weekly news round-up
12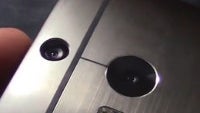 It is Monday again, meaning that it is time for another weekly news round-up. First, allow us to bring to your attention some of the newest leaks about the new, and yet-unannounced, HTC One smartphone. A spy shot of a promotional brochure revealed the approximate pricing for the device (and it surely won't be cheap), along with a description of its advanced camera features.
And speaking of camera features, there seems to be a Samsung Galaxy S5 Zoom in the works – a camera-centric Android smartphone based on the Galaxy S5. Allegedly, the handset will sport a 20MP camera with optical zoom and a 4.8-inch display.
In other news, Apple released an update to its mobile operating system. The new iOS 7.1 started rolling out just a few days ago, bringing new goodies to iOS device users. Some alterations are entirely aesthetic, like the redesigned slide-to-unlock and power off animations. Others improve the system's performance and accessibility. For more details, just check out our iOS 7.1 post at the link below.