These could be the first screenshots from iOS 8, new apps spotted
35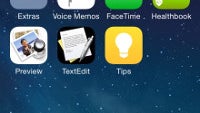 We've been hanging out on Weibo, the Chinese equivalent to Twitter, for a while now, and every now and then the effort pays off. Today might just prove to be a payday, though it will be a few months before we're really sure.
As you must have gleaned already, we may just have the first few screenshots from iOS 8, or so would the About page of the captured device in question suggest. Obviously, we have absolutely no way of verifying the authenticity of these screenshot, so do keep that in mind.
Looking past that, we see some additions to the app ecosystem that comes pre-loaded on modern iPhones. These include a new Healthbook app, which actually makes a lot of sense, considering the ongoing fitness and wellness craze in the tech sector, along with a rather cryptic Preview app. Also seen are a Text Edit and Tips apps, and while they sound kind of self-explanatory, we would be curious to see exactly what they're meant for in the event that they actually make it in the still distant iOS update.
All of these make
some
sense, especially the Healthbook app, which we've been hearing about lately. Truth be told, it should fit quite nicely with the upcoming Apple wearable, and we sure are anxious to hear more about Cupertino's next major software charge.