7 (plus one) new features of iOS 7.1
29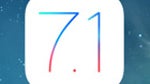 iOS 7.1 has now arrived and, in a typical Apple fashion, it is quickly rolling out to hundreds of millions of iPhones, iPads and iPod touches across the world. Sure, it's a point update (don't expect any ground-breaking new features), but it also brings some welcome refinements to iOS' new flat, modern looks.
The devil is in the detail is a saying that applies perfectly well to Apple's overall philosophy and iOS 7.1 in particular. Apart from the usual bug fixes and stability improvements, minute detail is exactly what this new update is all about.
Apple has expanded the control you have over the system, adding new customization options. Even with this, iOS is still far off what Android offers on that front, but the changes are welcome. From new camera options to slight keyboard tweaks, we have covered the seven (plus one) most notable new features in iOS 7.1. Take a look below.