Apple releases iOS 7.1
41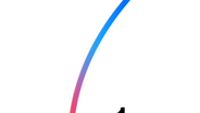 At last, Apple has released iOS 7.1, which includes a number of improvements and bug fixes including the elimination of one nasty bug that caused users' home screens to crash. The new build of Apple's mobile OS
includes CarPlay, introduced at the Geneva Motor Show last week
. With this feature, and an
Apple iPhone 5
or higher, the user can control certain functions on a touchscreen connected to a new car's dashboard. Functionality is limited to mapping and audio at the moment, and the UI is a rather simple version of iOS.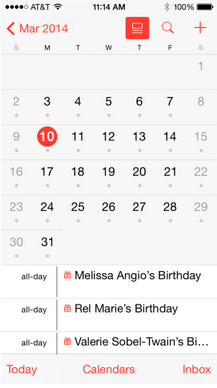 With iOS 7.1, the calendar will show daily appointments in month view
Other changes include a new way to let Siri know precisely when you're done talking to her. In the past, a pause of a few seconds would indicate to the virtual assistant that your question or request was done. Now, with iOS 7.1, you keep your finger pressed on the home button during your entire conversation with Siri. Once you are done, by lifting your finger off the button, Siri knows that you have completed your question or request. In addition, Apple has added new male and female voices for Mandarin Chinese, British English, Australian English, and Japanese.
The update to iOS 7.1 also added a new search field for iTunes Radio that allows users to create a station based on their favorite artists or songs. Albums can now be purchased with a single tap, instead of just singles. And iTunes Match can now be subscribed to from a mobile device instead of a desktop machine. A "Button Shapes" option will show you where you can tap on the screen, and there is a new "Darken Colors" option.
The calendar also has received an update with the ability to see daily appointments from the month view. And TouchID has been improved.
Apple iPhone 5s
users can expect to see fewer incorrect rejections with readings occurring faster than before the update. Lastly, the camera also has been updated, but for the iPhone 5s only. Thanks to that model's A7 processor, the 8MP snapper will turn on HDR automatically when needed. This feature takes many different exposures of a photograph in a split second, to create a composite shot that includes all of the little things that your eye sees naturally, such as shadows and highlights.
The iOS 7.1 update will be sent out OTA to those with the
Apple iPhone 4
and higher. Also receiving the new build will be those with the
Apple iPad 2
or higher. The entire update weighs in at 268MB.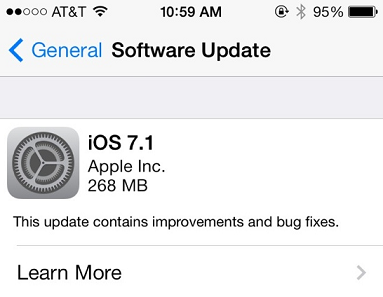 Apple has released iOS 7.1
source:
CNET