LG's L Series II phones to get premium "Knock" feature via maintenance update in January
17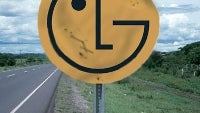 LG announced on Sunday morning in Korea that its premium feature "Knock", once known as "KnockON," will be standard on future models. LG's L Series II handsets will receive the feature through a maintenance update scheduled for next month. "KnockON" was developed as a way to quickly turn on a sleeping
LG G2
handset. With the flagship's power button on the back of the phone, users can more easily awaken the unit with a double tap to the screen.
Following its debut on the LG G2, "Knock" made its way to the
LG G Pad 8.3
tablet, and the
LG G Flex
. The latter, featuring a curved screen, also has its power and volume buttons located on the back of the device.
Because those using the three LG devices with "Knock" were so enthralled with the feature, the South Korean based OEM decided to whip up a version for the LG L Series II models so that as many LG customers as possible can experience it.
"Knock is distinctively an LG UX and a great example of what happens when you marry the latest in mobile technology with consumer-centric insights. No one ever thought that a power button needed to be improved until our engineers wondered why they couldn't turn the entire screen into a power button."
-Dr. Jong-seok Park, President and CEO, LG Electronics' Mobile Communications Company
source: LG
SEOUL, Dec. 29, 2013 — LG Electronics (LG) announced that its popular Knock feature (formerly known as KnockON) will be included as a standard feature in the company's key mobile devices in the future while its line of L Series II smartphones will receive Knock through a global Maintenance Release upgrade starting in January 2014.

Knock was first introduced in LG G2 as a convenient way to turn the smartphone on and off by tapping twice on the display since the power button was located on the back of the phone. Then Knock was featured in a tablet for the first time with the LG G Pad 8.3 followed by the G Flex curved smartphone which also shared the rear button design of the G2. The reaction of audiences to this new feature was so positive that a version for LG's best-selling L Series II was developed to offer the feature to as many customers as possible.

"Knock is distinctively an LG UX and a great example of what happens when you marry the latest in mobile technology with consumer-centric insights," said Dr. Jong-seok Park, President and CEO of LG Electronics' Mobile Communications Company, "No one ever thought that a power button needed to be improved until our engineers wondered why they couldn't turn the entire screen into a power button."